Nigerian pastor blasts church building collapse ruling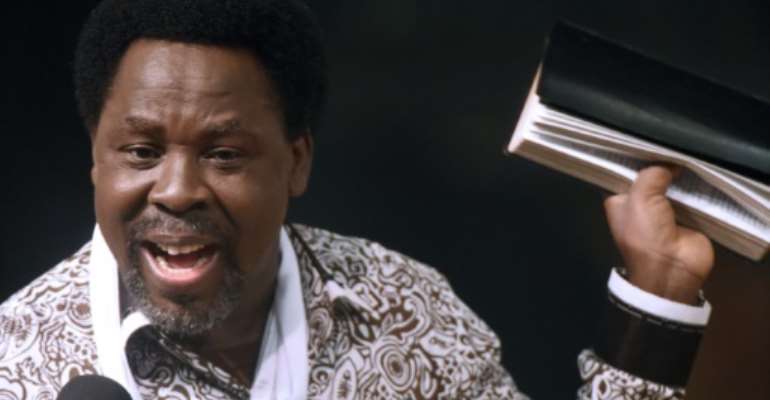 Lagos (AFP) - Nigerian preacher TB Joshua on Thursday blasted a coroner's ruling that his church was criminally negligent for a building collapse that killed 116 people, most of them South Africans.
"The Synagogue Church of All Nations (SCOAN) rejects the verdict of the coroner on the grounds that it is unreasonable, one-sided and biased," the church said on its Facebook and Twitter pages.
"The church maintains its stand that the incident was as a result of sabotage," the statement added.
An inquest was called to determine the circumstances and causes of the collapse on September 12 last year of a guesthouse for foreign followers of Joshua at his Lagos megachurch.
Coroner Oyetade Komolafe on Wednesday attributed the collapse to structural failures and said the church should be prosecuted as the guesthouse did not have planning permission.
"The church was culpable because of criminal negligence resulting in the death of the victims," he added.
Joshua and his supporters have maintained the collapse was linked to a mysterious "hovering" aircraft seen over the guesthouse in the moments leading up to the collapse or a controlled explosion.
Experts ruled out a blast and while a military aircraft was en route to Lagos airport near the church at the time, they said it was "practically impossible" for it to have caused the collapse.
Instead, they submitted that the guesthouse could not support the addition of extra floors being built on it, despite assurances from church engineers that the foundations were sound.
"The church disagrees most vehemently with the finding that the incident was due to structural failure," the statement said.
Evidence was produced to suggest the incident "could have been brought about by external forces such as controlled demolition or an explosion," it added.
"No matter how long a lie is sustained, the truth will someday prevail."
Komolafe's ruling is effectively a recommendation, as the inquest was not a criminal trial. Lagos state authorities have said they will look at the ruling and decide how to proceed.
Joshua, who counts powerful politicians from across Africa among his flock, is known to followers as "The Prophet" and "The Man of God".
He is a self-styled faith healer and mystic who also runs a popular evangelical television channel.
Despite a string of summons for him to give evidence, he refused to turn up in court to repeat his assertions under oath about the cause of the collapse.
He also challenged the coroner's jurisdiction to call him as a witness in a higher court but his plea was rejected.