Palace coup in PNC; Mahama, Ramadan ousted!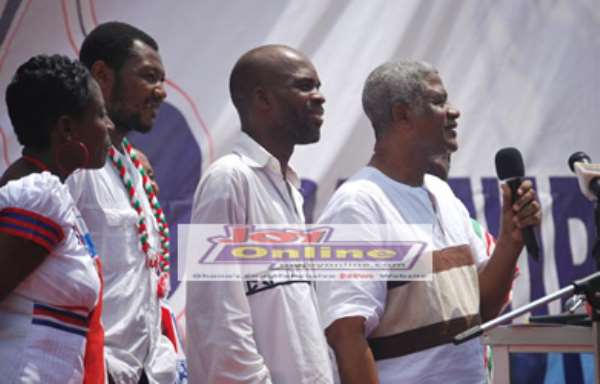 Alhaji Ramadan (with mic) and some of the 'ousted' leaders giving a solidarity message at NPP's congress in Kumasi

A group opposed to the leadership of the Peoples National Convention has forcibly taken over the party's national office.
The group insists the leadership of the PNC headed by party chairman Alhaji Ramadan, 2008 presidential candidate Edward Mahama has no locus to lead the party.
Spokesperson of the group, Sontim Torbiga told Joy News the ousted leaders violated the party's constitution in having Edward Mahama run as the party's candidate for an unprecedented fourth time and still dreaming of a fifth time when the constitution of the party allowed for only two attempts.
He said Mr. Mahama conspired with Ramadan to have their friends appointed as vice chairmen in flagrant violation of the party's constitution.
As a remedy to the violation of the constitution, Mr. Torbiga said an Interim Management Committee (IMC) has been constituted to run the day-to-day affairs of the party until congress is held later in the year to elect new officers.
Joy News can confirm that the party head quarters in Accra has been taken over by some guards with strict instructions from the IMC not to allow any member of the Ramadan leadership access to the office.
But Torbiga said the men are workers of the PNC. He added the IMC has been legitimized by the regional chairmen of the party, some of who he said are members of the IMC.
Height of madness
But the General Secretary of the PNC Bernard Mornah said the action by the self-styled IMC is the "height of madness."
According to him the action is only but sour grapes from people who lost the national election 'fair and square'.
Torbigo contested the party's General Secretary position but lost to Mornah.
Bernard Mornah told Joy News the Alhaji Ramadan-led administration is still in control and will not allow Torbiga and his assembled group of losers to hold the party hostage.
He said he has restrained supporters of the 'ousted' leadership from besieging the party headquarters and retaking over.
According to him, they have reported the case to the police and a criminal investigation has just began.

Story by Nathan Gadugah/Myjoyonline.com/Ghana