Department of Women marks 16 Days activism against gender-based violence at Kongo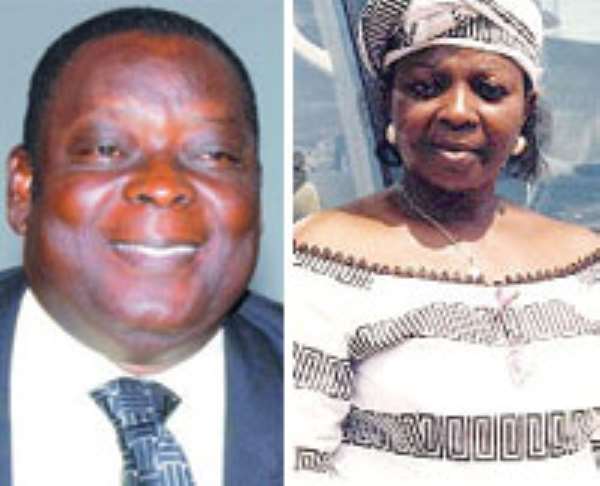 Mr. Mark Wayongo, Upper East Regional Minister (left), Mrs. Juliana Azumah-Mensah, Minister for Women and Children's Affairs (right)
THE DEPARTMENT of Women in the Upper East Region rounded up the year 2010 with the commemoration of this year's 16 Days activism against gender-based violence at Kongo in the Talensi-Nabdam District.
The Acting Regional Director of the department, Mr. Zakari-Saa Patrick Seidu, told Upper East File that the department could not observe the day which was supposed to be from November 25 to December 10, as the annual period for the celebration, due to it packed programmes within that same period.
Annually, a number of activities are earmarked within the sixteen days, and during the period, issues bordering on gender-based violence, including HIV/AIDS, human rights and gender discrimination, are discussed.
Mr. Zakari-Saa said chiefs and opinion leaders were used in this year's celebration, because of the important role they play in the society as custodians of traditions and cultures.
He hoped their involvement could help curb some of the cultural issues militating against the development the department hoped to achieve.
On HIV/AIDS, the Acting Director said the major concerns were stigmatisation and gender discrimination, and called on society to give people living with the disease the necessary support and the love they deserve, stressing, 'Because, just like with any other disease, we should sympathise with them.'
He further explained that issues of discrimination, based on gender, are also looked at during this period, with the involvement of all stakeholders, so that no section of the society is discriminated against, because everybody has a role to play in regional and national development when empowered.
Detective Lance Corporal Banabas Nifaaniteng of the Domestic Violence and Victim Support Unit of the Ghana Police Service mentioned broken homes, school dropouts, deformation, increase in teenage pregnancies,, and streetism, as some of the negative effects of domestic violence, and urged the participants, who were mainly women, to report cases of domestic violence to the unit for redress.
The Northern Regional Director of the National Population Council, Chief Alhassan Issahaku Amadu, who was a resource person, called for the re-introduction of some of the traditional practice puberty rites among young girls to check their virginity status before getting married, as a means of curbing HIV/AIDS.
The Chief of Kongo, Sapaat-Naab/Ex-WO David Dok-Dong, strongly supported the idea of empowering women to know their rights and to report to the appropriate authorities, whenever those rights are violated.