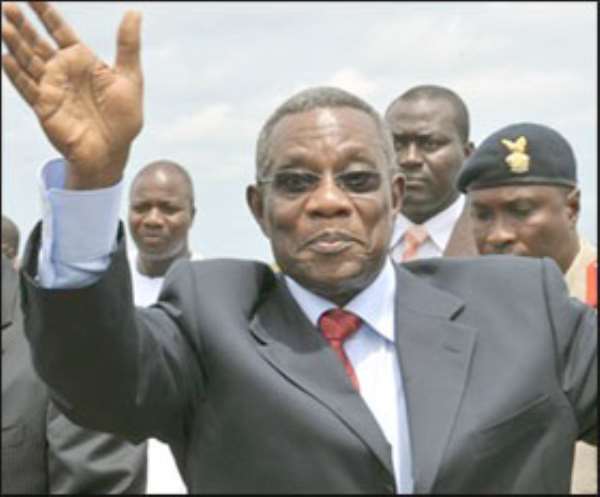 Ghanaians Abroad against Corruption is appealing to The UN Secretary General and the Ecowas, to investigate the circumstances whereby elements of the Ghanaian National Security services, and advisors of Ghanaian President John Atta Mills authorised the supply of military equipment, namely pistols, ammunition, rocket propelled launchers, bullet proof vests and two way'/adios to Laurent Gbagbo.
, Our sources on the Ghanaian -Ivorian Border stated that on Christmas Day at 2.am 400 members of the ruling party militia, the United Cadres Front, "crossed the border town of Enchi in Ghana into Cote d ivoire and headed south to a rendezvous point at Grand Bassam in Cote d Ivoire.
Close allies of Laurent Gbagbo have set up a command post to receive these men. Though the aims of objectives of these men are not clear, it is believed they are to act as a search and destroy unit and to thwart forces loyal to Mr Alhassane Ouatarra from taking key installations around the capital and to support the Ivorian army factions loyal to Mr Gbagbo.
The Ghanaian Government we have learnt has bowed to pressure from their National Security outfit to support Mr Gbagbo with financial assistance. We condemn this decision as it undermines the efforts of the African Union and Ecowas, the regional body to bring the crisis to an end.
We also expressed serious reservations about the involvement of Ex President Mr Jerry Rawlings, and Mr Kojo Tsikata, former Head of the Ghanaian Intelligence services, 1982-1995 and currently special advisor on National Security, Foreign Intelligence and Elections under President Mills as well as elements of the Ghanaian security services. We know that elements of the United Cadres front militia are very skilled and well drilled. All are former members of the Committee for the Defence of the Revolution (CDRs) and the defunct Forces Reserve Battalion (FRB) which existed under the 19 year rule of Mr Jerry Rawlings. Most of these individuals also received training in Libya. We ask the United Nations to investigate why elements who are not part of the Ghanaian army are being sent to Cote d Ivoire without any proper mandate to prop up and support a government whose current legality is in dispute and also why military equipment is being supplied, just satisfy vested interests in violation of international Law.
Dennis Doe Vormavor
Interim Chairman, Ghanaians Abroad against Corruption (GAAC)
GlasgowUK
Dr Frank Obese Jecty
GAAC Representative, Abidjan, Cote d ivoire