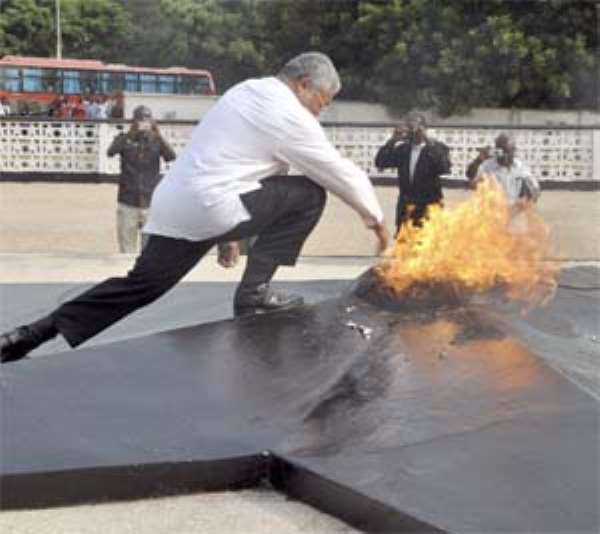 Jerry John Rawlings, leader of the 31st December coup passing his hand through the flame
Former President Rawlings claims that President John Evans Atta Mills is not in charge of the affairs of the nations and seems to have lost control of the men around him.
According to the former president, Mills has surrounded himself with people like the Ahwoi brothers, Professor Kofi Awoonor, Koku Anyidoho, the Tsikatas and several others who were close to him but were doing their own thing.
He said those appointees were 'doing their own things' in government and blocking wise counsel from well-meaning supporters of the party.
Mr. Rawlings said the president had become so lonely with little or sometimes bad advice from so-called counselors. 'The President has become quite lonely,' he said, claiming that one of his (Mills's) former advisors boasted that he had told President Mills not to investigate corruption allegations against officials of the past government.
He was speaking at a lecture to mark the 29th anniversary celebration of the 31st December coup that toppled the government of Dr. Hilla Limann.
'Not too long ago,' Rawlings narrated, 'our poor President, I think he wanted to put an efficient person in some organization, when the person went to inspect the place, only to discover somebody had already been put there. Who put him there? Professor Awoonor had done his own appointment without reference to even the President.
'The man comes back and reports it to the president and the president says Prof Awoonor 'ore haw me'', in Fante, meaning 'the prof is worrying me'.'
According to Flt. Lt. Rawlings, President Mills offered to give the man another appointment 'when he should have called Prof Awoonor, given him five seconds to move that your thing out of the office.'
Furthermore, he stated, 'When we get up its Ahwoi, Ahwoi, Ahwois, oh they are doing their things but they are not the only ones. The Awoonor is also there and Tsikata is also there doing his things. The Anyidohos, the Lanteys, what do they call him? The one from Chorkor? The Ludwigs.'
Former President Rawlings was explaining why he had strained relations with President Mills, a man he brought from obscurity to political limelight.
He was particularly not happy with the fact that Mills had not heeded his advice to prosecute members of the erstwhile New Patriotic Party (NPP) who he accused of corruption and having a hand in the murder of Ya Na Yakubu Andani and Issah Mobilla.
'The people know that this kind of corruption used to take place not too long ago. Killings, plain killings where people should have been actually arrested, the attempt to even do dirty things in Tain on that last day. Soldiers were caught with sniper weapons, commanders who should have been actually arrested and we give instructions out. I don't hear anybody being suspended. I don't want to see anybody being sent on leave.
'If during the period, the lifespan of a regime, justice is not being done, corruption is not being prevented, when the time comes and you are booted out, then that day people will begin to see the justice, the investigations, the corruption that took place.'
According to him, it was the same thing that happened during the Acheampong regime which led to the explosion, with people having to pay the price with their lives.
'But if we have a situation like Kufuor's, the worst form of corruption in our history, all governments put together, we don't measure up to one-third…of his level of corruption and killings and nothing is being done…we will now begin to institutionalize corruption.'
Rawlings said he could do everything including dining with President Mills but said the only thing that would make him reconcile with him would be for him to start investigating the Kufuor administration and its officials and expose them.
By Charles Takyi-Boadu