CPP cries for justice against December 31 coup makers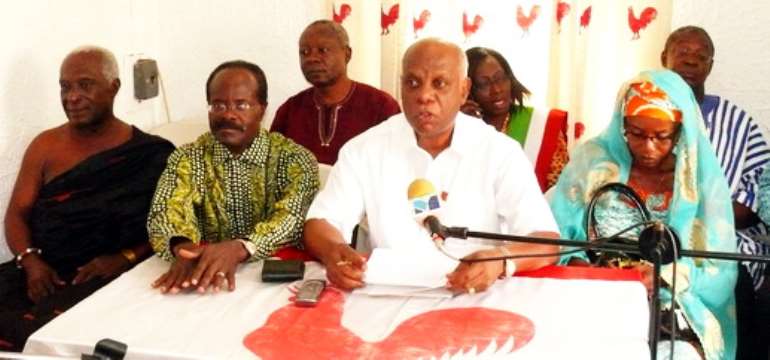 Leaders of the CPP have called for a removal of the 1992 indemnity clauses in order to pave way for a trial of the December 31, 1981 coup makers.
Chairman and Leader of the CPP, Ladi Nylander in a press conference said the 1981 coup was just a "ravenous appetite for power," adding that the Limann regime was on course to revitalise the economy.
Other prominent figures present were former CPP presidential candidate, Paa Kwasi Ndoum; former Director General of the Ghana Health Service, Prof. Badu Akosah, and former CPP presidential running mate in 2008, Dr Abu Sakara.
"We deprecate in the strongest terms the sanctity that has been wrapped around the brutal activities of the architects of the 31st December, 1981 by the insertion of indemnity clauses because such indemnity cannot be justified," Mr Nylander said.
"We demand justice to be done to the CPP now."
He further pointed to countries such as Chile and Argentina who have repealed similar clauses to make way for the trials of coup makers in those countries.
Mr Nylander also stated that the building which currently houses the Ministry of Information belonged to the CPP as their headquarters and he would want it de-confiscated immediately.
"We also call for the de-confiscation of the CPP regional office in Kumasi which is now occupied by the West African Examinations Council (WAEC), the Brong Ahafo regional office, which is currently the regional police headquarters in Sunyani and all other CPP regional offices in the country," he demanded.
"All those buildings were constructed with funds from party members. Some of the contributors to that fund are still alive to testify to that fact."
Meanwhile, a former Minister of the then Local Government and Cooperatives, Baffour Kwabena Senkyire, who was also present at the forum, said he had to run for his dear life upon hearing of the coup d'etat at 11 am.
According to him, he had to go into exile for 12 years after the coup, suffering all forms of discomfort such as the inability to buy food and the loss of his wife and father during that period.
He also said that he was in support of the removal of the indemnity clauses in order for the coup makers to stand trial.
The December 31, 1981 coup d'etat was instigated by former President Rawlings who took over affairs of the state right through to his election as president in 1992 until his mandate expired in 2000.
Mr Rawlings and some other leading members of the NDC are expected to give a public lecture on the December 31, 1981 coup d'etat on Friday.
Story by Fidel Amoah/Myjoyonline.com/Ghana