Accra Records 4 Fire Outbreaks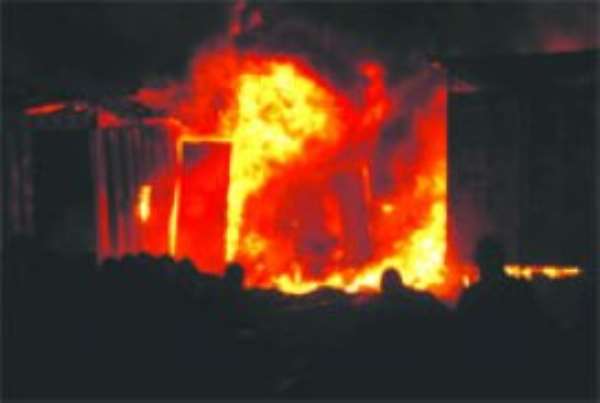 A container shop containing second hand car tyres on flames at Abossey Okai near the Obetsebi Lamptey Circle in Accra.
Four separate fire outbreaks occurred in Accra last Wednesday night, claiming the lives of three children and destroying property valued at millions of cedis.
The children who died in the fire incident which occurred at Nmai-Djor near Adenta, have been identified as Kwame Kwofie, Godfried Kwofie and Maxwell Kwofie, aged between six and eight years.
The three other fire outbreaks occurred at Adenta, Madina and Abossey Okai.
Before personnel from the Madina Fire Service got to the Nmai-Djor scene, the fire had gutted the wooden structure in which they were sleeping.
Their father, Mr Albert Kofi, who attempted to rescue the children, also sustained injuries and is receiving treatment at the Rose Clinic at Adenta.
Speaking in an interview with the Daily Graphic, the Municipal Fire Officer of Ga East, Divisional Officer I Mawusi Ntow-Sarpong, said the fire service had a call at about 8.34 pm last Wednesday, that there was a fire outbreak at Nmai-Djor.
Madam Ntow-Sarpong said by 8.50 pm personnel from the Madina Fire Station had arrived on the scene to control the fire from spreading to other structures.
She said preliminary investigations suggested that the fire was caused by negligence on the part of the occupants.
Madam Ntow-Sarpong explained that the structure had no electricity and the occupants used candlelight at the time of the fire out break.
She said there was another fire outbreak at Sakora near Adenta and the Apostles Revelation Society (ARS) Church at Madina.
Madam Ntow-Sarpong said the residents at Sakora were able to put out the fire before fire service personnel arrived.
She said no casualty was recorded. At the ARS Church, she said the fire caused extensive damage to property of the church.
She said among some of the property destroyed were the church's musical instrument, a stabiliser and part of the church building.
Madam Ntow-Sarpong observed that most of the fire hydrants in the area had been sealed making it difficult for the personnel to immediately refill the fire engines.
She said despite this difficulty, the personnel had been able to control the fire outbreaks in the area from spreading to other structures.
In a related development, fire gutted eight mini containers of lorry tyres near the Total Filling Station at Abossey Okai in Accra.
The tyres were completely burnt but there was no casualty.
The Public Relations Officer of the Ghana National Fire Service, Mr Sowah Oblejumah, said the Ghana Fire Service was investigating the cause of the fires.
He advised the general public to take fire safety measures very seriously to avoid such situations from occurring.