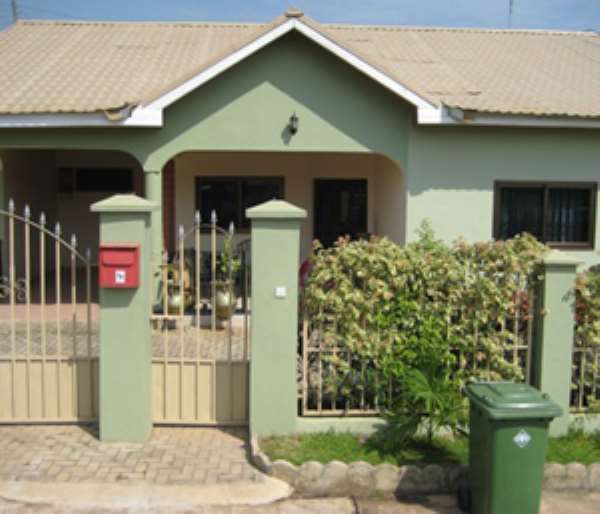 Estate House
Comet Properties Limited, a wholly owned Ghanaian real estate company, yesterday launched its Initial Public Offer (IPO), in Accra to raise fund for long-term expansion projects.
The company is offering to the investing public 61,823,968 shares of no par value for subscription at a price of GH¢1.00 per share.  The share is made up of 54,095,972 new shares to be issued from authorised shares, and 7,727,996 ordinary shares being offered by existing shareholders.
The 54,095,972 new shares are anticipated to increase the issued shares outstanding from 154,559,920 to 208,655,892.  The new shareholders would hold 30 per cent of the company's post flotation shares.
The company expects to raise GH¢61,823,968 from the proceeds of this offer which began yesterday December 30, 2010 and ends on January 31, 2011.
Of this amount, the prospectus said, GH¢7,727,996, representing 12.5 per cent would go to its current shareholder being 7,727,996 shares offered for sale in the IPO.
The remaining GH¢54,095,972 being proceeds from new shares to be issued under the offer would be used for the expansion of the company's operations.
'It will be used to establish downstream operations for the production of plastic T&G for ceiling and paneling, aggregate stone, expansion of the company's wood processing facility and its aluminium fabrication plant,' the prospectus stated, projecting a dividend payout of 30 per cent per annum.
It further noted that part of the GH¢54,095,972 would be used to construct 1,000 residential houses during the plan period as well as low cost high-rise buildings for workers.
Comet Properties is a real estate development company that was established in 2002 with the primary objective of constructing and delivering property market, functional and comfortable houses in the country.
The company has since developed and delivered to customers, several houses on its maiden 2,000 acre Hillside Housing Estate Project at Brekuso near the Ashongman Housing Estates in Accra.
It is a member of the Ghana Real Estates Developers Association (GREDA). In its maiden entry into the prestigious Ghana Club 100, the company placed 47 in the over all rankings and first in the Real Estates Industry category.
Over the years, Comet has registered impressive growth with its gross profit averaging 107 percent per annum from 2005 to 2007.
In 2008, which was a challenging year, the company's turnover was GH¢19.34 million, representing an increase of six percent over the previous year of GH¢18.27 million.  Additionally, profit after tax increased from GH¢661,109 in 2005 to GH¢758,311 in 2006.
The company's profit increased to GH¢1.83 million in 2007 and subsequently to GH¢2.66 million in 2008.
In September 2006, Comet, by a special resolution, converted from a private company to a public limited liability company, adopting amended regulations of a public company in its quest to open up shareholding to the larger investing public.
Comet would thus become the first real estate company to list on the Ghana Stock Exchange.
Nana Odeneho Kyeremanten, the Executive Chairman of Comet Properties, was full of excitement for the new direction of his outfit.
'We want to take on the discipline of the market place to earn greater reputation and to be able to access greater capital to improve our housing delivery.'
Kofi Yamoah, Managing Director of the GSE, commenting on the provisional listing of the company said: 'We at the GSE are delighted to have Comet Properties Limited, which is a wholly owned Ghanaian real estate company.'
It would add to the diversity of companies that are represented on the market, he added.
By Felix Dela Klutse