Aspiring assembly woman seeks electorates' vote to develop Gbentaana Ward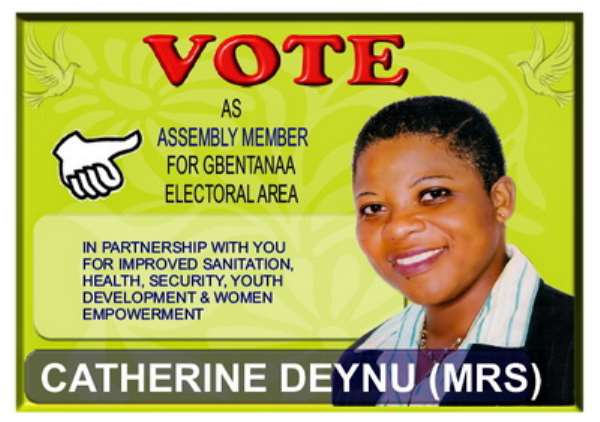 Mrs Catherine Deynu

Mrs Catherine Deynu, aspiring assembly woman for Gbentaana Ward in the Greater Accra Region, has pledged to be a focal person between her constituents and the Adenta Municipal Assembly to deal with the challenges facing the community.
She stressed to put her vision in place through strategic community engagement if she gets the nod.
"There are a lot of challenges facing the community, which includes inadequate provision of portable water. Sanitation is another major challenge. Lack of public health facilities, poor road network, and insecurity are among the many setbacks," she told the Ghana News Agency in an interview in Accra at the weekend.
"In lieu of the above challenges, I deemed it expedient to help provide solutions to the challenges so as to uplift the Gbentaana ward for our co-habitation."
Mrs Deynu, a lecturer in nursing, promised to liaise with some non-governmental organisations to map out strategies to provide boreholes and other development projects for the ward.
She said she would use her influence to reinforce the existing bye- laws on waste management, improve on security and road network and provide a clean, healthier and safe environment.
"What I have been doing for the community so far includes: free health screening. I screened more than 3000 people since last year. I train health care assistants and attach them to hospitals.
"I train the youth, I counsel senior secondary school and junior high school graduates who are not able to make it to higher institutions by assisting them gain employment. I organise women for small scale loans and give hope to the youth to aspire to higher levels," she said.
Mrs Deynu studied Master of Philosophy in Nursing from the University of Ghana and did part of her Research course at the University of Alberta, Canada.
She pursued Psychology and Nursing as a combined major as a first degree. She also holds a Diploma in Education /Administration.
She has 16 years experience in public service and currently works as an Examiner for the Nursing and Midwifery Council of Ghana.
She helped conduct a Research for Harvard University in the US on Women's Health in Accra.
Mrs Deynu is a member of a number of societies including the West Africa College of Nursing, International Red Cross and Red Crescent and also an honourable member of the International Honour Society for Nurses.
She is the Founder and Executive Director of Mon Rêve, an organisation focusing on Health Education and Training as well as women and youth empowerment.
Mrs Deynu serves on many boards including Social Investment Fund and works with a number of committees and market women associations with the aim to assist them adapt to modern business trends.