Robbery At Lighthouse Pastor's House - 3 Jailed 132 Years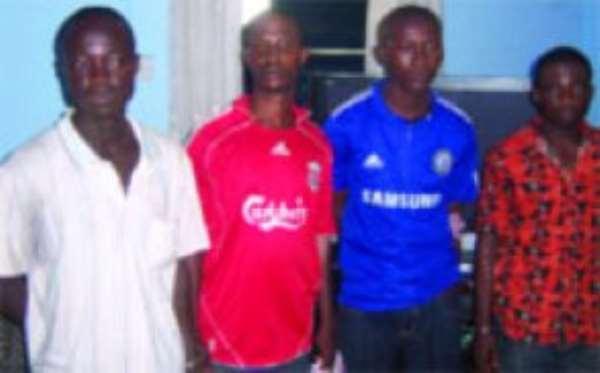 The convicts (from left), Ebow Kwabena, Kofi Yeboah, Osei Prempeh and Yaw Asamoah, after their arrest.
Three robbers who confessed to killing a 26-year-old pastor of the Lighthouse Chapel in a robbery operation at Gbawe, a suburb of Accra, were yesterday sentenced to a total of 132 years for robbery.
The three — Yaw Asamoah, 30, Kofi Yeboah, 30, and Osei Prempeh, 23 — were sentenced to 22 years each on each count of conspiracy and robbery. The sentences are to run concurrently.
A fourth accomplice, Ebow Kwabena, 30, was sentenced earlier this year by the same court to 20 years' imprisonment for conspiring with the others to rob a bank manager.
Asamoah was sentenced in absentia, having escaped from lawful custody around 8 a.m. on October 27, 2010 when he was being escorted to stand trial in another court for a robbery offence.
Two prison officers are currently standing trial for allegedly aiding his escape. The presiding judge, Mrs Patience Mills-Tetteh, was of the view that the prosecution had proved the guilt of the convicts beyond reasonable doubt.
She held that robbery was a menace to society and it was important for the court to give them a deterrent sentence.
The convicts, on January 13, 2010, pleaded guilty to the crime but Asamoah, Yeboah and Prempeh changed their pleas on January 27, 2010, with the excuse that the police had coerced them to confess.
Ebo Kwabena, however, maintained his guilty plea and was accordingly convicted to 20 years' imprisonment on two counts of conspiracy and robbery on January 27, 2010.
On January 13, 2010, the four convicts pleaded guilty and prayed the court to mete out harsh punishment to them for committing the heinous crime of killing the pastor.
The judge, however, reminded them that they were before her for robbery and not murder. The court, upon hearing their plea, made an order that a pump action gun stolen from the banker and which was retrieved from the robbers should be handed over to the owner.
The brief facts of the case were that Asamoah and his accomplices, armed with a pistol, committed a string of robberies between November and December 2009 and in the process broke into the premises of their victims and made away with a pump action gun, one box of cartridges, car keys, laptops, some mobile phones and cash.
According to the police, Asamoah and his accomplices struck in December 2009, attacked residents of Gbawe, robbed them of their personal belongings and killed Pastor Nii Addy of the Lighthouse Chapel before fleeing to commit more robberies.
However, luck eluded them on January 6, 2010 when they were arrested following a tip-off while preparing to embark on another robbery expedition.