Government to hold consultative forums on Polytechnics - Veep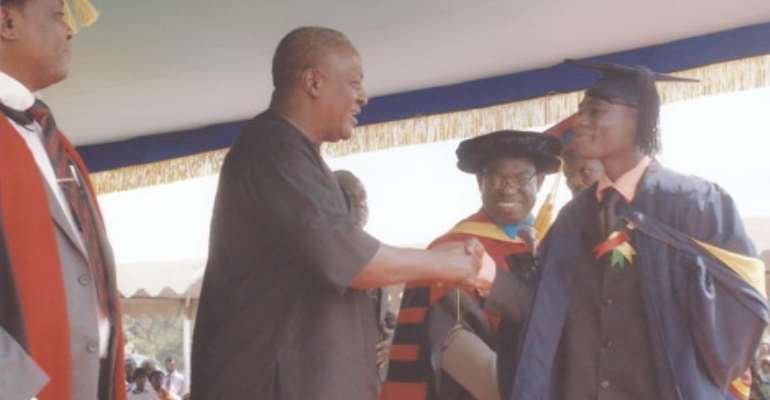 Vice President John Dramani Mahama on Saturday announced that government would soon organise stakeholders' consultative forums throughout the country to re-classify polytechnic education and put the polytechnics at their rightful place.
He said the platform would also seek to find lasting solution to the frequent agitations from Polytechnic Teachers Association of Ghana (POTAG) and the intricacies in the Polytechnic education system.
The Vice President announced this during the 10th Congregation of Takoradi Polytechnic.
He said polytechnic education had an important role to play, particularly with the oil exploration and production in the country. A total of 2,318 graduates made up of 1,595 males and 723 females were awarded various Higher National Diplomas while 71 Civil Engineering graduates received competency based training certificates.
Vice President Mahama said government was bent on finding perpetual solutions to the impasse with POTAG to pave way for the polytechnics to carry out their mandate of training professionals for the appropriate institutions of technology and development. He said due to the pressure on the Ghana Education Trust fund, government would develop alternative ways of funding school projects throughout the country.
Vice President Mahama gave the assurance that government would continue to provide the necessary logistics that would empower the polytechnics to be responsive to their challenges.Reverend Professor Daniel A. Nyarko, Rector of Takoradi Polytechnic said his outfit would sign a Memorandum of Understanding with the University of Derby in the United Kingdom to mount specialised Bachelors and Masters Programmes in Electrical and Electronics Engineering.
He said the polytechnic would also sign another agreement to begin the training of aircraft maintenance technicians with the assistance of an Aircraft Maintenance Training Institute in Florida, USA. Rev Nyarko appealed to the government to provide the school with residential accommodation and lecture theatres.
Dr K.T. Oduro, Chairman of the Polytechnic Council called on the government to provide a hostel for the more than 3,000 students who were not accommodated on campus. He also called for better working conditions of polytechnic teachers to enable them train more professionals.