Mills: I'll knock my opponent down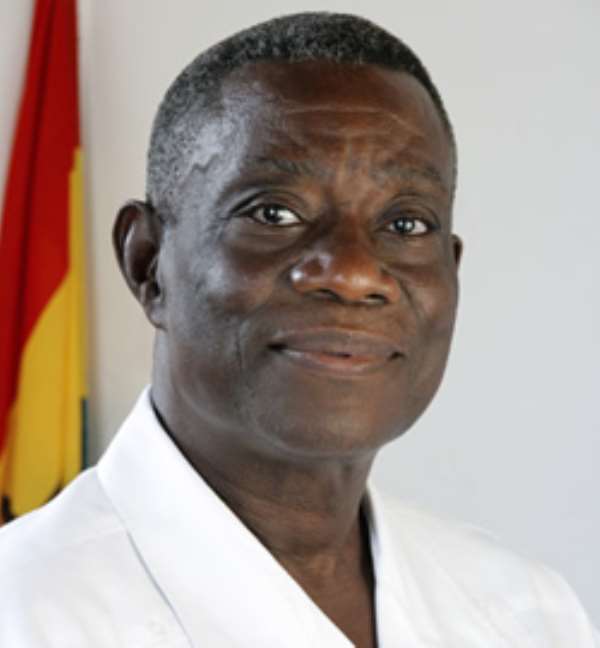 President J.E.A. Mills - vows to knock his opponent down
President J.E.A. Mills was all humour Tuesday morning as he received the International Boxing Federation (IBF) bantamweight champion, Joseph "King Kong" Agbeko to the Osu Castle for his conquest and dethroning of then champion Yonnhy Perez of the USA last week.
Agbeko won a unanimous decision in their duel at the Emerald Queen Casino in Tacoma, Washington to reclaim the title, romping home with 115-113, 116-112 and 117-111 decisions by the judges.
President Mills was grateful to Agbeko for a gift of boxing gloves, with which he said, he would knock his opponent down at the end of a four-round contest he is engaged in, two of which he has completed high on points. The inference from the president was obvious, and it sent the gathering of some ministers of state, sports administrators and sportsmen bursting into laughter.
"Thank you for presenting me with the boxing gloves. As you know, I'm engaged in a boxing contest, four rounds – I'm about to finish the second round but I can assure you… I'm leading on points. By the end of the fourth round, my opponent is going to be knocked out," President Mills proclaimed.
Commending the new champion for the honour done Ghana per his victory, the president said "You have done very well for yourself and the nation. At the appropriate time, we will acknowledge in concrete terms what you've done and also show our appreciation for doing Ghana the honours."
He described Agbeko as a young man who knows what he is about and therefore needs to be encouraged, assuring him "we'll do what we can to make sure boxing takes its pride of place which it occupied some years ago. We have the talent and the potential and we must nurture these.
"On behalf of the government and the people of this dear nation, Agbeko, we congratulate you on your wonderful performance. We wish you well and we want to wish you and all those who are gathered here, a merry Christmas and a happy and prosperous New Year."
Agbeko was himself very grateful to all Ghanaians for their support and prayers, and to President Mills particularly for sending a delegation and a special message to cheer him in his fight. Listen to Agbeko
He said he will do all in his power to lift the image of Ghana wherever he finds himself, adding his voice to calls for government support to build the sports, saying but for boxing, he wondered what else could have opened the doors of the presidency to him on four occasions. He noted that there are a lot of talents out there seeking to follow in his footsteps who need but a push to live their dreams.
Ghana Boxing Authority Chairman, Samir Captan had appealed to the government and the president to support the growth of boxing, saying "our boxers, managers, match makers, promoters, planners and ring officials can produce more champions if you give us the needed support and push."
Sports Minister, Akua Sena Dansua pledged a blissful future for Ghana boxing, saying plans by the government, in association with some businesses to grow the sport will be announced in the near future,
Story by Isaac Yeboah/Myjoyonline.com/Ghana