Torched grandma case adjourned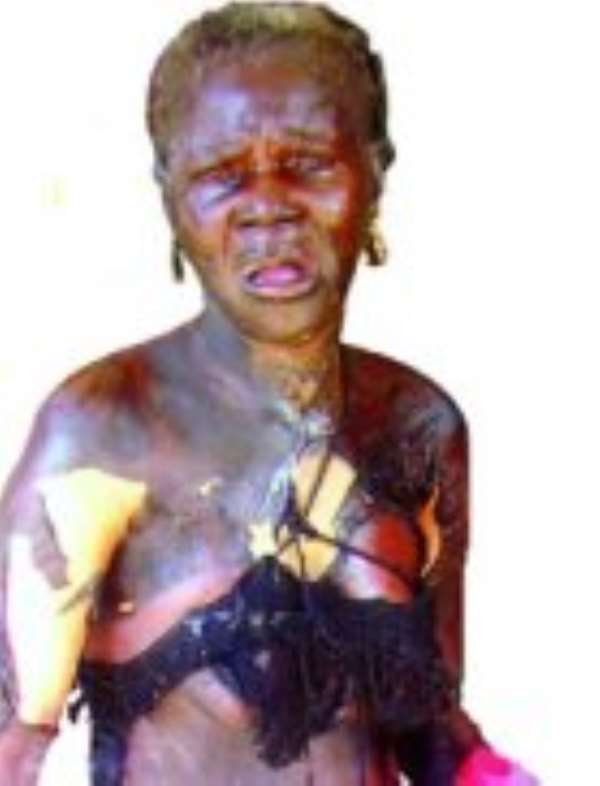 The late Ama Ahemmah

The Magistrate's Court in Tema trying the case involving six people who are alleged to have tortured and set ablaze a 72-year-old woman, Ama Ahemmah, leading to her death has adjourned the case to December 23, 2010.
The decision of the court is to enable the prosecution to furnish it with the autopsy report.
The accused persons and their counsel were in court when the case was called.
Counsel for the accused persons, Mr William Lumor, expressed concern over the uncooperative attitude of the prosecution, which he said was unjustifiably delaying the case, saying it was a deliberate attempt designed to deny the fundamental human rights of the two principal suspects who were still being held in custody after their arrest.
Counsel also expressed reservations over media coverage of the case, saying media reports were not only prejudicial but also contemptuous and disparaging.
He prayed the court to restrain the press, particularly the Daily Graphic, from prejudging the case.
"I will not hesitate to cite the media, particularly the Daily Graphic, for contempt should they continue going into an arena of conflict regarding the case," Mr Lumor told the court.
The magistrate, Mrs Johana Yankson, said since she did not read what was written in the media regarding the case, restraining media personnel from carrying out their duty might amount to interference in press freedom.
She, however, appealed to the press to ensure fair coverage of the trial.
The suspects — Samuel Ghunney, a 50-year-old photographer, and Emelia Opoku, a 37-year-old teacher, with the help of four others; Samuel Fletcher Sagoe, 55, an evangelist; Nancy Nana Ama Akrofie, 46; Hannah Sagoe and Mary Sagoe, 52 are alleged to have tortured and extracted confessions of being a witch from Madam Ahemmah, a native of Ajumako Assan, when she strayed into their house at Community One, Site 7 on November 20, 2010.
According to the prosecution, after the torture, the old woman was allegedly drenched with kerosene laced with petrol and burnt alive.
Madam Ahemmah died 24 hours later at the Tema General Hospital.
Surce: Daily Graphic