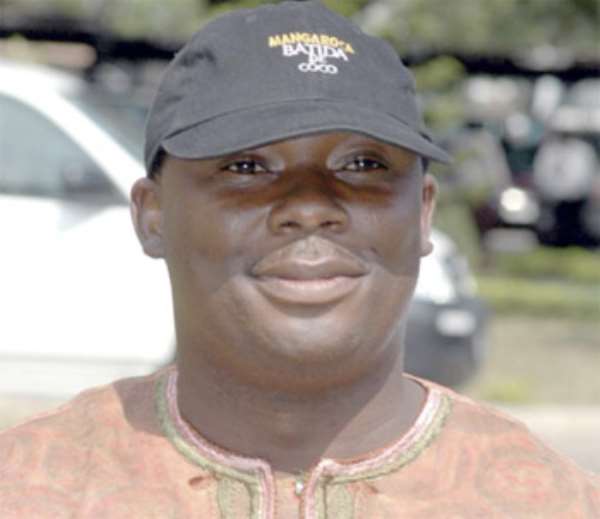 •Benjamin Ndego
Benjamin Ndego, a former Deputy Director of the Narcotics Control Board (NACOB), at the weekend broke his long silence when he called into a live radio programme to explain his side in the narcotic drug trade in the country.
Contrary to reports by the ruling National Democratic Congress (NDC) that its predecessor, the New Patriotic Party (NPP) government, led by President John Agyekum Kufuor, did not have any political will to fight the narcotic drugs trade, Mr. Ndego, who returned late last year from overseas to continue his job at NACOB but under a different responsibility, said the Kufuor-led administration clearly demonstrated its commitment to fight the menace.
He however said it was some individuals within the then government whose activities clearly undermined NACOB's effort to bring the narcotics drug trade under control, virtually pointing fingers at Albert Kan Dapaah, then Minister of the Interior and Defence, for bringing the activities of NACOB to its knees.
Mr. Ndego had called into Joy FM's current affairs and news analysis programme, Newsfile, hosted by Kwaku Sakyi-Addo, to challenge some of the panelists' assertion that some NACOB officials were not effective in fighting the drug trade.
The panelist included Kweku Baako Jnr. Editor-in-Chief of New Crusading Guide; Samuel Okudzeto Ablakwa, a Deputy Minister of Information and Nana Akomea, MP for Okaikoi South.
The discussion centered mainly on the whistle blower website, Wikileaks publication that 'US Embassy contacts in the police service and the president's office 'have said they know the identities of the major barons,' but 'the government of Ghana does not have the political will to go after [them]'.'
Mr. Ndego said, 'I am grateful this opportunity has finally arrived. I have all along kept quiet because I have been a top intelligence officer for a very long time and thought that I needed to protect the image of this country and also prevent leakage of very important information that may cause chaos in this country.'
He continued:  'If you read the Wikileaks very carefully…when it referred to political will, it was based on the attitude of some officials and I will tell you as a law enforcement officer that from the beginning of 2000, the political will was there…very efficient officers were brought.'
He claimed that there was a conspiracy to present NACOB officials as criminals so that certain individuals he refused to mention could have the chance to operate their nefarious activities.
While accusing Mr. Dapaah for undermining the work of NACOB by removing officers and recruiting new personnel, Mr. Ndego showered praises on Papa Owusu Ankomah, MP for Sekondi and a former Minister of the Interior, saying, 'Nobody has spoken about the good effort Papa Owusu Ankomah did to help NACOB to operate effectively.
'The political will was there and it will always be there in the government at the top level but unfortunately, you will have individuals in the system that has their personal motives.'
He noted, 'I am not going to mention names. I have been called to offices where I have been told unpalatable words'.
When he was asked by the host whether he (Ndego) trusted those he was working with now, he answered: 'Well…that is another problem because if you are changing people they say you are witch hunting. I have not seen any significant change.'
Mr. Ndego also said the VVIP lounge at the Kotoka International Airport (KIA) had been a loophole for a very long time, adding, 'I am no longer in charge of operations so I would not know if there is a scanner at the place now.'
He alleged that some drug barons walked in the corridors of power and sponsored people to become politicians, warning that the issue of narcotics drug should never be reduced to NDC and NPP matter.
Earlier, Mr. Ndego had accused Mr. Baako of making 'selective logic' when commenting on the reason why the enforcement officer left office, saying, 'He goes about trumpeting himself as an intelligence animal', a comment the Editor-in-Chief did not take lightly.
'I have kept quiet because I do not want to bring problem but if you continue this line…I believe a platform will come and everybody would know what happened,' Mr. Ndego warned.
But Mr. Baako fired back and insisted he had selected his facts from the report by Justice Georgina Wood Committee that investigated the missing 77 parcels of cocaine on board the MV Benjamin vessel and also from a rejoinder that former National Security Minister Francis Poku released to the media .
'That is an empty threat. I have things on Ndego which I can also put in public. I have with me here complaints against his conduct at the Kotoka International Airport much earlier by a CEPS official.'
By William Yaw Owusu