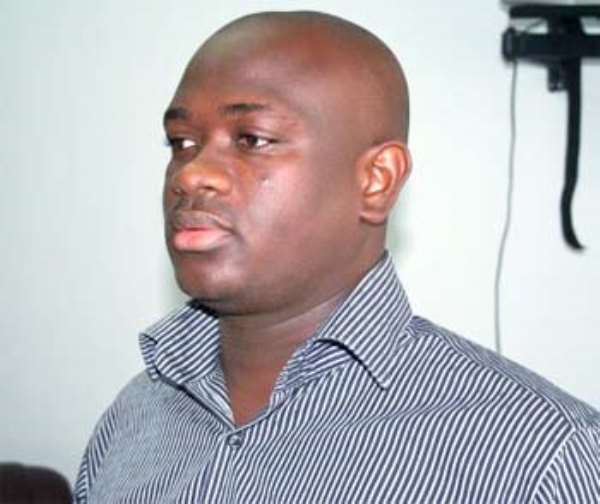 Stan Dogbe
THE MAN who prides himself of being a presidential aide with the responsibility of developing communications strategy for President Atta Mills and his ruling National Democratic Congress (NDC), Stanislav Xoese Dogbe, is in the news again.
Stan claimed he used GH¢169,000 from state coffers for public education on the 2010 budget and also bought hampers for selected journalists for writing favourable pieces about government.
Stan has been dealt a serious blow by President Atta Mills who refused to include him in the list of appointees sent to Parliament.
The Member of Parliament for Effia Kwesiminstim, Joe Baidoe-Ansah, had questioned the authority of Stan to collect the GH¢169,000 on behalf of the Ministry of Information, when he (Stan) was not a government appointee as his name was conspicuously missing on the list of appointees the president sent to Parliament on July 30, 2010.
According to the document personally signed by President Mills and delivered to the Speaker of Parliament in line with the Presidential Office Act, 1993 (Act463), as at December 2009, the number of presidential staffers, excluding Ministers of State at the office of the President, were 25 and Stan Dogbe's name was nowhere.
But Stan claims to have been appointed a presidential aide on June 1, 2009 through a letter signed by Chief of Staff, John Henry Martey Newman.
Stan, who obtained his diploma in journalism from the Ghana Institute of Journalism in July 1999, told MPs like Joe Baidoe-Ansah and his colleagues in the New Patriotic Party (NPP), who doubted him to verify his presidential appointment from the office of the Chief of Staff.
When the issue of the Dogbegate came up on Citi FM last Friday, Stan's initial comments were 'whether or not I am supposed to sign documents… does not matter in this case.'
Pressed further, he denied ever receiving the controversial GH¢169,000 which he had told DAILY GUIDE about and even explained how he had spent it.
He now says, 'The funds were collected by the Minister of Information, then Zita Okaikoi. I was requested days after to sign the form… to indicate that yes the funds has (sic) been collected.'
In that regard, he said, 'The Minister requested of me when she was not in the office to sign on her behalf and I did sign the form.'
Zita has refused to comment on the GH¢169,000 cash taken away in a 'Ghana must go bag'.
In that radio interview, Stan Dogbe stated, 'I Stanislav Xoese Dogbe, Presidential Aide, Office of the President and attached to the government's communication team has not and has (sic) never collected any amount whether lower or higher than GH¢169,000 either in a rubber bag and envelop or a Ghana must go bag.  I have never collected any such money.'
However, documents in the possession of DAILY GUIDE points to the fact that Stan was indeed the one who collected the money and not Zita as he claimed, since in the receipt which bears his name and signature, dated December 21, 2009, three clear days to Christmas, he stated, 'I have received an amount of one hundred and sixty-nine thousand Ghana cedis from the Principal Accountant, Ministry of Information to enable me carry out public education on the 2010 annual budget.'
Stan Dogbe told DAILY GUIDE at Alisa Hotel, North Ridge, Accra that he indeed used part of the money to buy Christmas hampers for selected journalists and to influence articles published in the media about the budget.
Though he specifically mentioned the Institute of Financial and Economic Journalists (IFEJ) and editors of media houses as some of the beneficiaries of the largesse, they have all denied it.
President of IFEJ, Llyod Evans, Business editor of the state-run Daily Graphic, challenged his junior colleague journalist, Stan, to prove his assertion.
Even NDC Youth activist Ras Mubarak, who claims to have attended some of the budget meetings at which strategies were designed on how to embark on the educational campaign on the 2010 budget and written articles in support of same, said he never received a dime, let alone a Christmas hamper from anybody as a token of appreciation for his participation.
That notwithstanding, Stan's self-serving claim to have developed a communications strategy, which 'is working well' for the Mills administration has been widely criticized, considering the porous nature of the government's communications machinery, catalogued with half-truths and lies as contained in the recently launched top fifty achievements of President Mills. 
By Charles Takyi-Boadu