Negative attitudes of people affecting roads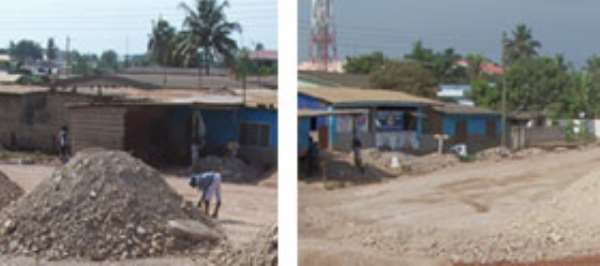 Some individuals picking stones for road construction works for their own purposes at Mallam junction. Pix by Eric Owiredu (left), A man busy breaking construction stones under a shed with for sale signboard on a heap. Pix by Eric Owiredu (right)
Many people complain when a road develops potholes shortly after construction, attributing it to shoddy work, incompetency and the government not awarding contracts to right the construction companies, without putting into account their own negative attitudes such as the stealing of materials meant for road construction.
The Accra File observed at the Mallam-Lapaz highway, which is under construction, that some individuals living nearby were collecting the stones and sand piled at the construction site for their personal purposes.
The most surprising aspect of their illegal operations is that these activities are being conducted in broad daylight when construction is ongoing, especially, at the Mallam junction.
Investigations by The File revealed that pupils of a nearby school close to the Mallam junction were collecting some of the rocks meant for the construction of the road into their school.
Some other individuals were also breaking the larger rocks into smaller stones probably to sell.
Meanwhile, Malam junction is known to be one of the flood-prone areas in Accra, and the deterioration of the walls of houses situated there indicate clearly that it is a swampy area.
Other negative activities which result in the deterioration of our roads include the throwing of household waste water on to the roads, which is most common in the Accra Metropolis.
The Sowutuom-Ofankor road is among the bad roads which residents and motorist are complaining bitterly about and calling for government intervention, but the situation is being worsened by some persons winning sand by the roadside, which has resulted in the deterioration of the Gbawe Ablekuma road.
Often than not, people seem not to really care about public property, with the refrain that it belongs to the government, forgetting that the government only holds it in trust for the same people.