KATH honours dedicated staff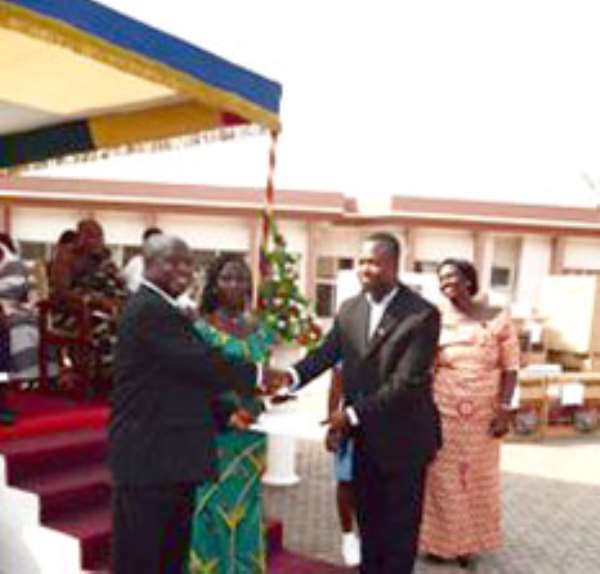 One of the award winners receiving his certificate of honour
THE DEPUTY Minister of Health, Mr. Rojo Mettle-Nunoo, has reiterated the government's commitment towards addressing the social welfare needs of health workers in the country, in order to improve the quality of healthcare delivery to citizens of Ghana.
The Deputy Minister said the government would continue to assist and support programmes that are geared towards enriching the lives of health and allied workers, in order to enable them give their best to patients who visit the country's hospitals to seek treatment.
Mr. Mettle-Nunoo made the pledge at this year's Best Staff Awards and Annual Thanksgiving Service organizsed by the management of the Komfo Anokye Teaching Hospital (KATH) in Kumasi.
The Minister noted that in spite of the significant progress being made through government's interventions, the country continues to face numerous challenges in the area of healthcare, amongst which include premature deaths, endemic and epidemic-prone diseases, unacceptable high levels of child and maternal mortality, and the continuing threats of the deadly HIV/AIDS accelerated by poverty.
Mr. Mettle-Nunoo therefore, pointed out that the government had committed itself to a new health paradigm that adopts an inter-sectoral approach, by involving other government sectors and partnerships with the private sector.
He stressed that the institution of a Provident Fund for health workers was part of the scheme to enhance the conditions of health staff, and to make sure that their futures are secured during retirement.
The Chief Executive Officer (CEO) of KATH, Prof. Ohene Adjei, said the management of the hospital decided to re-introduce the award scheme as an incentive to motivate staff and ensure competition in duty, which eventually leads to efficiency.
He said being the sole referral hospital in one of the most populous regions in the country, the hospital and its staff were very much aware of the enormous task burden, hence, the need to institute measures to reward and assuage the heavy workload of workers in the institution.
Prof. Ohene Adjei said so far, the hospital had paid about GH¢180,000 as Security Fund to about 516 staff members who went on retirement since 2006.
Dedicated and committed staff in the hospital received awards in 17 categories, ranging from best midwife, best nurse, best allied health staff, to best doctor, amongst others.
The overall best staff award went to Ms. Regina Obeng, of the Best Nurse (Senior Category). She received a brand new saloon car donated to the hospital by Ernest Chemists Limited.
Other award winners received deep freezers, television sets and other appliances.