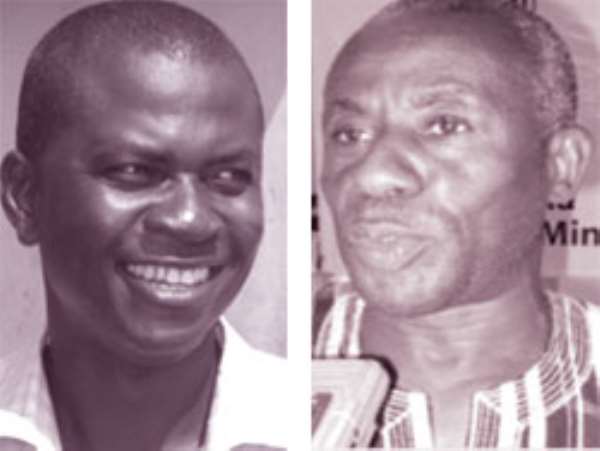 Ben Annan, Sansu Assembly Member (left), Alhaji Collins Dauda –Minister for Lands, Forestry & Mines (right)
Sansu is a beautiful town. Or to be more honest, Sansu could be a beautiful town. I have just completed a two-day visit to the place. They are beautiful people, with beautiful women. It is located at the southern end of the Obuasi municipality in the Ashanti Region.
I visited the place for a simple reason. The Commission for Human Rights and Administrative Justice (CHRAJ) had compiled a report on human right issues in mining communities in Ghana. The report on Sansu struck me because I had earlier listened to Mr Ben Annan, the assemblyman for Sansu at a workshop in Accra. He is an eloquent advocate for his people. He loves his community, and cares about their problems.
That is how I took interest in CHRAJ's work on the town. The report was published in 2008, but visiting the town in the second week of December 2010, I observed that many of the issues are still there. The most pressing ones are the livelihood issues.
SURFACE MINING
Sometime in 1986, AngloGold Ashanti (then Ashanti Goldfields Company) started surface mining operations. Which meant that land portions being used for subsistence farming had to be cleared for surface mining operations. It was an extensive surface mining programme. Sanso and its farmers were a major casualty.
It doesn't look like the affected farmers had much say in how much compensation was paid them, or how quickly those compensations were paid. And alternative livelihood programmes remain on paper. To put it frankly, alternative livelihood packages promised by AngloGold Ashanti were not delivered.
The effect is that Sanso has higher unemployment than its nearby communities. Everyday, both young and old women travel to the municipal capital, that is Obuasi, to look for their daily bread. But more often they return with little or nothing.
GALAMSEY
That is how come galamsey or small scale mining has become the main means of survival for the beautiful people of Sansu. This is not the only reason for galamsey in Sansu, but it is an important reason. Unfortunately, galamsey has its own challenges. The law says that anybody who wants to do galamsey should first acquire a mining concession (that is, a piece of land that contains the mineral to be mined). It is one of the preconditions for getting a license.
If we think of foreign investors who arrive in Ghana to do small scale mining, this requirement is fair. However, when indigenous people who have resorted to galamsey as a means of survival are asked to acquire mining concessions, it becomes problematic. Problematic because they just cannot afford.
But in Sansu, AngloGold does not believe that this should be the company's headache.
They guard their concession with jealousy. And the fact is that about 70% of land in Obuasi fall under AngloGold's concession. Some of these concessions were acquired in the 1800s.
So Sanso galamsey operators, sometimes working with their colleagues from elsewhere, encroach the concessions of AngloGold Ashanti. That has on many occasions led to violent clashes between the company and galamseyers, poisoning company-community relations and leaving Sanso with a permanent grievance.
ALTERNATIVE LIVELIHOOD
Sansu's problems can be solved. But more voices are needed to articulate the issues. Local politicians, civil society, the media, all have to pay more attention to the effects of mining on communities such as Sansu.
Fortunately, some progress has been made. Thanks to the work of people like Ben Annan and organisation such as WACAM, there has been some improvement in the circumstances of galamsey operators in the country generally.
However, these improvements are insufficient for addressing the concerns of Sansu people.
There must be a comprehensive alternative livelihood plan to correct the high unemployment in the town.
This should go beyond the usual provision of land and the advice to the youth to get into farming. Any livelihood programme must be planned in full consultation with the leaders and people of Sansu.
It is obvious that the regularisation of galamsey activities is worth considering. Interested operators should be supported to satisfy the requirements of the law, so they can operate in peace.
In particular, AngloGold Ashanti may want to cede some of its concessions to these small scale miners. It would be a fair gesture of corporate social responsibility to the town.
If we get the solution right, Sansu will become what it really is: a beautiful town.