Dr. Baah Asante addresses Kwakwaduam Association Inc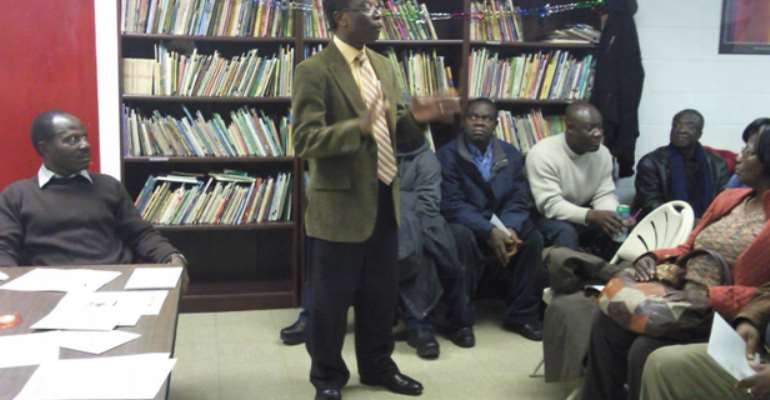 Dr. Baah Asante a Private General Medical Practitioner in the New York Tri State Area gave a lecture on the "Implications of the Flu Season and the Flu Vaccine" to members of the Kwakwaduam Association Inc at the December monthly meeting in New York organized by the Association. He stressed the need for vulnerable groups particularly children, the elderly and pregnant patients among others to receive the vaccine. He indicated that annually about 36,000 Americans die from flu and influenza/pneumonia and stressed the need for members to take it seriously. Dr. Asante is the Association's Doctor.
This is part of the Health Education program of the Organization and one several other lectures organized by the Association in the course of the year. The essence of these lectures spanning from Life Insurance, Investments, Diabetes, Fibroids, Real Estate, Prostate Cancer, Preventive Medicine, and Medical Emergencies among others is to arm members with the requisite knowledge to assimilate easier into the American life.
Commenting on the Lecture, Dr. Aniapam Boafo who is the President of the organization thanked Dr. Baah and indicated that Kwakwaduam was in process of establishing a form of Group Health Insurance for members particularly those without job related health insurance to make it easier for members to access health care
Kwakwaduam is a Non for Profit Organization with a 501(C) (3) status and considered a public charity. The mission of Kwakwaduam is to foster a social, educational, cultural, financial and cultural wellbeing of its membership and to organize activities to improve the quality of lives of the people of Ghana in general.