Stolen oil not crude -Police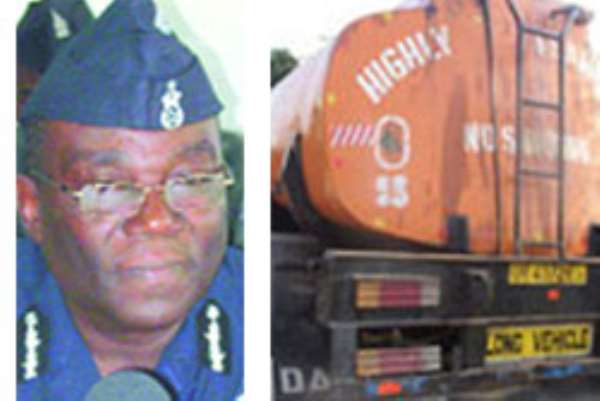 Mr. Paul Tawiah Quaye, IGP
The Central Regional Police Public Relations Officer, Raymond Asaaba, says experts from the  oil field at Saltpond have confirmed that the alleged crude oil seized at the Elmina beach on Sunday, and for which eight persons were arrested and placed in custody, is after all not crude oil.
Mr. Asaaba told The Chronicle that the police were still gathering information on the matter, and that the Regional Police Commander, DCOP Annor Coffie, was expected to give a detailed report on the arrest to the press in subsequent days.
He could not tell whether the suspects had been freed or not, when this reporter pressed to know their fate, insisting that details of the case would be given by the Police Commander.
Meanwhile, Joy FM has also quoted the Chief Executive Officer of Saltpond Offshore Producing Company Limited, Quincy Simtim Aboagye, as saying that the supposed crude oil was rather sludge or engine oil, and did not come from the Saltpond Fields, as was earlier reported.
Eight people were arrested last Sunday at the Elmina beach by the Central Regional police patrol team, when they were offloading some black substance initially believed to be crude oil, into a Ghana Oil Company (Goil) tanker.