Stanbic supports Agric development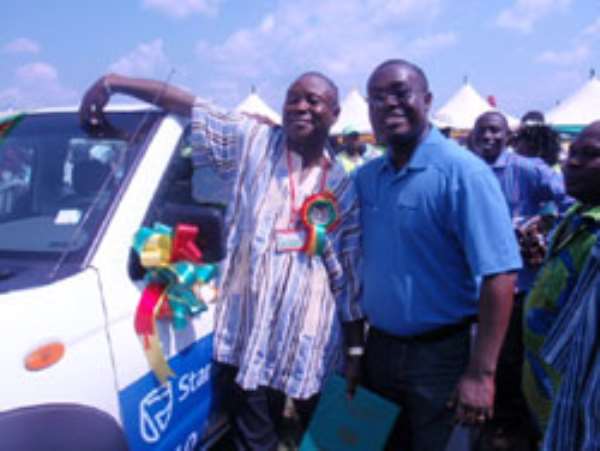 Stanbic Bank, as part of its efforts at enhancing agric development in the country, sponsored the award for the 2nd runner up in this year's national Farmers Day celebration at Somanya last Friday.
The award went to Eric Midorse, a 47 year old fisherman in the Kwahu South district.
Mr. Mawuko Afadzinu, Head of Marketing and Public Affairs at Stanbic, who presented a double cabin Nissan pick-up to Mr. Midorse, congratulated him on winning the award, and urged other farmers to do well, as their efforts would be recognised and rewarded in due course.
Receiving his prize, Mr. Midorse thanked Stanbic Bank, the government and people of Ghana for the honour done him.
He said the pick-up would help him reach out to smaller farmers in his district to assist them, so that together, they can grow more food to feed the nation.
In addition to fishing, Midorse also rears cattle, goats and sheep, and has number of food crops such as maize, palm nuts, sweet potatotoes, tomatoes, cassava, and okro to his credit.