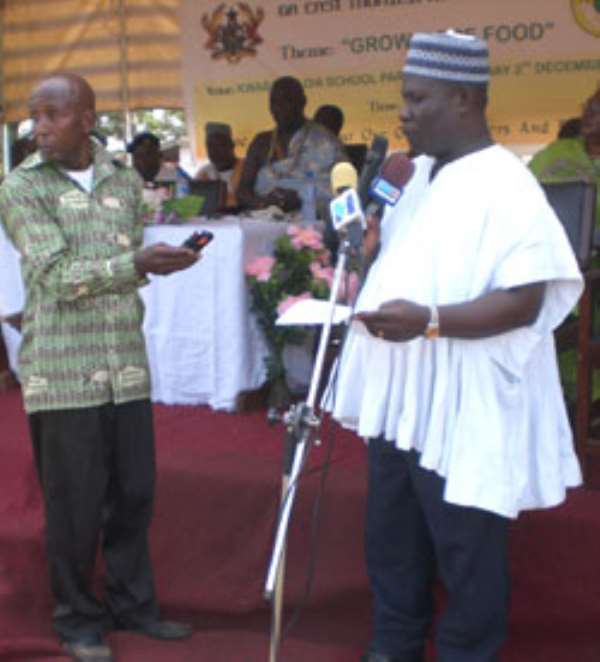 Pix: Mr. Sackey deliverying his address during the Farmers Day celebration
The Municipal Chief Executive (MCE) of the Ga East Municipal Assembly, Mr. John Kwao Sackey, has appealed to banks and other financial institutions to provide Ghanaian farmers with favourable financial facilities, to enable them increase their yield to feed the nation.
Speaking at the 26th National Farmers Day celebration held at Kwabenya in the Ga East Municipality over the weekend, he further urged farmers to make good use of this opportunity to increase food production.
He disclosed that the Municipal Assembly, in collaboration with the Ghana Atomic Energy Commission, would establish 60 acres of palm next season, as its contribution to food production.
He further cited the government subsidised fertilizer to farmers saying its bid to see farmers increase their production and turn their livelihood, had resulted in subsidizing the price of fertilizers such as compound fertilisers like Urea and Sulphate of Ammonia.
The theme, 'Grow More', he said, was a clarion call for all of us to get involved in food production, saying, 'The world's population is increasing day after day, which needs a correspondence increment in food production.'
He said in the Ga East Municipality farmlands are giving way to estate development, leading to the farmers losing their source of livelihoods.
He said this unfortunate incident was very alarming, and needed immediate intervention.
Mr. Sackey therefore, cautioned Ghanaians to take a cue from the past Operation Feed Yourself programme, and increase food production, and also land owners, producers, distribution, marketers, input dealers and service providers must involve themselves.
He charged the Municipal Agricultural Development Unit of the Municipal Assembly to lead the crusade to increase food production in the ensuring year, saying that the Municipal Assembly was ready to assist in that direction.
He recommended that the municipality diversify into alternate livelihoods such as glasscutter production, rabbitry, snail farming and mushroom production, to serve as a source of income for the farmers.
The MCE said there was also a need to introduce practical agriculture in schools in the Municipality.
'Our schools must be encouraged to set up school garden and farms, or pay regular visits to well-established farms to acquaint themselves with agriculture,' he added.
On the other hand, Mr. Solomon Sowah from Pantang was adjudged the Best Farmer for this year in Ga East Municipality, and took away a 2,500-litre water tank, a television set, radio, chemicals, cutlasses, wellington boats, and other farming materials.