Vodafone Outdoors Samsung Galaxy Tab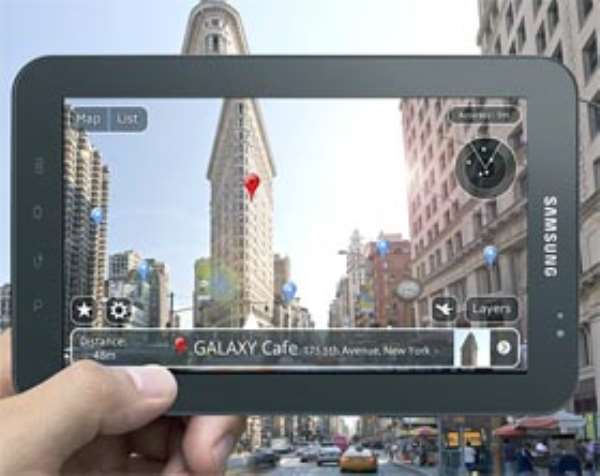 Vodafone Ghana on Monday introduced the Samsung Galaxy Tablet onto the Ghanaian market.
The Samsung Galaxy Tablet is a portable smart-phone and personal computer merged into one device.
It is suitable for those who want to obtain recent information and also stay connected to people.
The device comes with a headset, an extra 1 gigabyte memory card, a Vodafone SIM, 2.5 gigabyte of data, 100 voice minutes to all networks, 50 free text messages and a one year warranty.
Appearing in a seven-inch high resolution touch screen tablet, it promises to deliver smooth performance with a random access memory providing instant and reliable photo browsing, internet surfing.
It can also be used to view and edit Microsoft office files including Word, Excel, PowerPoint and PDF.
Vodafone customers can also read digital books and watch high definition videos.
Commenting on the device, Carmen Bruce Annan, head of Corporate Communications at Vodafone Ghana stated: '
Customers lead increasingly busy lives and as such need to have access to both their business information and social networks wherever they are, and that is why we joined forces with Samsung to give Vodafone Ghana's customers exclusive use of the Galaxy Tablet.'
With Bluetooth connectivity support, the Galaxy Tablet provides reliable access to take pictures and videos, store or share them over Vodafone's network instantly with friends via email or facebook.
It can be found at Vodafone retail outlets across country at GH¢1, 200.00.
Vodafone Ghana has sold more than 1 million handsets since launched its operations in the country.
By Samuel Boadi