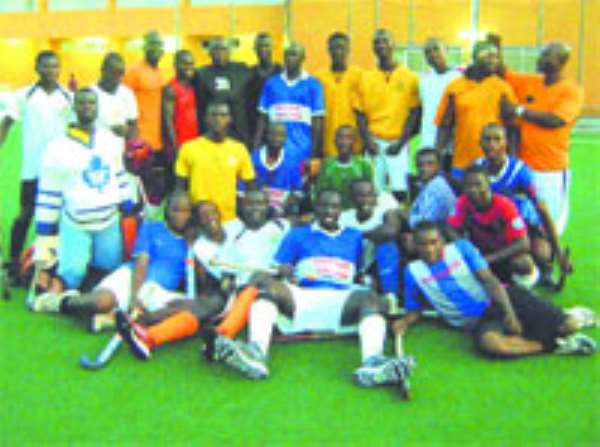 The members of the Trustees team in post-training pose
On Thursday, an anticipated classy stick work, penalty corners, penalty strokes and pushes is expected to rock the National Hockey Stadium for the 22nd edition of the African Hockey Championship.
The Local Organizing Committee (LOC) has stepped up its gear, regarding preparations for the competition, which bullies off from December 9 to 18, 2010.
And indications are that the pitch is set, the teams are trickling in -Sharkia and Police (Egypt), and Strathmore (Kenya) are already in town.
The Ghanaian teams have pitched camps, Umpires, Supporters Union groups and other officials are ready for the grand opening ceremony for the ten-day hockey fiesta.
Yobe Queens and Heartland will set the tone for the competition on Thursday morning, in an all Nigeria affair in the morning. Telkom Orange and Sharkia will follow in the second ladies game, while Police and Trustees battle in the men's opening game.
An all Ghanaian ladies affair will see Extinguishers cross swords with Reformers later in the day, with Golden Sticks facing Niger Flickers in the last game of the day.
Eleven male teams and six female teams will battle for honours  in the Hockey Club Championship.
Defending champions Sharkia, and Police from Egypt, Strathmore University of Kenya, Niger Flickers and Yobi Desert from Nigeria, Trustees and Golden Sticks from Ghana will do battle in the men's division.
The female category will see Extinguishers and Reformers (Ghana), Heartland and Yobi Queens (Nigeria), defending champions Telcom (Kenya) and Sharkia doing battle.