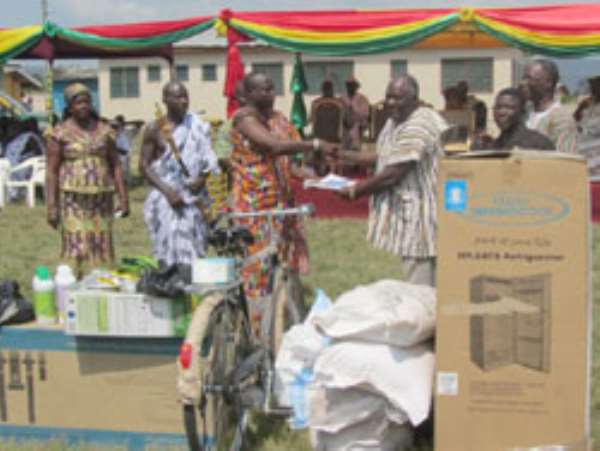 A Member of the Council of State, Mr. Paul Adjei Annan (3rd right) presenting an award to the Overall Best Farmer in the Tema Metropolis for 2010, Nii Narh Abotsi
A 54 year old building contractor, Nii Narh Abotsi, was adjudged the Best Farmer at this year's Tema Metropolitan Best Farmers' award ceremony, which was held at Kpone-Bawaleshie in the Kpone-Katamanso constituency last Friday.
Nii Abotsi walked home with a fridge, home theater, bicycle, half piece of cloth, wellington boots, cutlasses (4), three bags of fertilizer, two litres of insecticides, two litres of soil magic, two litres of fungicides, two bars of Duck bar soap, canned fish (20), two litres of herbicides, and two bags of wheat bran.
In all, 19 people were selected awards winners in the various categories.
In a speech read on his behalf, the Tema Metropolitan Chief Executive (MCE), Mr. Robert Kempes Ofosuware, stated that the theme for the cerebration; 'Grow More Food' was very appropriate, considering the decreasing trend in food production in the country, especially, in Tema, where all the farm lands are being converted into residential and other uses.
He said, a recent report from the UN Habitat indicated that the percentage of urban residence was expected to rise, and this would bring about several new challenges for urban policy planning and implementation, especially, when trying to ensure household food security.
Congratulating the hard working Ghanaian farmers, Ofosuware hinted that food shortage had become a global concern, and that many countries were pushing for short and long term solutions to the problem.
He further stated that the Assembly and its Department of Food and Agriculture were introducing a number of initiatives that would encourage food and life-stock farming, to help increase food production in the country.
One such initiative is the block farm programme, which contributed to an increase in the production level of tomatoes and onions in the metropolis, while the youth in agriculture programme, which is aimed at engaging the youth in maize, pepper and onion production, is in the pipeline, he explained.
A Member of the Council of State, Paul Adjei Annan, said the Ministry of Food and Agriculture would continue to play a lead role in their effort as a ministry to achieve food security.
The Member of the Council of State said the promotion of good agricultural practice through efficient technical advice to farmers, protecting crops and life stocks against major crop and animal diseases through routine disease souvenirs and control programmes, as well as promotion of increased crop and life-stock production through the provision of subsidised and interest free credit to farmers would continue to be the concern of the ministry.