6 December 2010
|
Politics
Oil Or No Oil, Food Is No 1 - President Mills Assures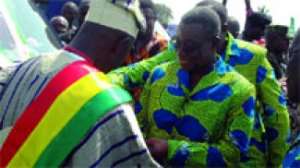 President John Evans Atta Mills has assured Ghanaians that despite the oil find, his administration will continue to give all the necessary support to boost agricultural production in the country.
That, according to the President, was because the agricultural sector was a strong option for achieving accelerated economic growth and poverty reduction.
Addressing the 26th National Farmers' Day celebration at Somanya yesterday, President Atta Mills said agriculture was still the mainstay of Ghana's economy, so despite the oil find, his administration would continue to support agriculture for it to help accelerate economic growth and alleviate poverty to ensure decent living for all Ghanaians.
"I am reiterating the point I continue to make that in spite of our oil find, the Atta Mills Government will continue to support the agriculture sector as a strong option for achieving accelerated economic growth and poverty reduction," the President stated.
In all 70 farmers, fishermen, livestock breeders and agricultural extension officers who distinguished themselves in various areas of agricultural production were honoured.
President Mills said because of the government's commitment to the agriculture sector and the efforts of the indefatigable farmers in the country who stepped up food production, the global food and economic crisis which resulted in poverty and hunger around the world last year did not become that severe in Ghana.
For instance, he said, the farmers in 2009 produced 23.1 million metric tons of root tubers and plantain and 2.6 million metric tons of cereals as against 21.3 million and 2.2 million metric tons of root tubers and plantain and cereals respectively in 2008.
On cocoa production, President Mills said it provided a foreign exchange cover of about $1.86 billion from export in 2009, while livestock farmers and fisherfolk did not only provide the nation with its important protein requirements but also generated $48.12 million in foreign exchange from fish and other seafood exports.
President Mills, however, stated that despite such gains, Ghana still spent more than $1 billion annually on the importation of food that could be produced in the country with rice alone wiping out $500 million of Ghana's hard-earned foreign exchange.
He expressed the hope that duties imposed on selected food items in the 2011 budget would address the gross imbalance and mentioned subsidy on fertiliser, expanding irrigation to end rain-fed agriculture, intensified dissemination of agricultural technologies and education, the Youth in Agriculture Programme and the creation of a national food buffer stock company to store food as some of the government's interventions.
President Mills said the buffer stock company had started yielding good results because it had purchased and stored 10,000 metric tons of paddy rice and about 32,000 metric tons of maize, some of which had been bought by the World Food Programme and sent to Niger.
He thanked the farmers, fishermen and livestock breeders who were honoured and the entire farming community for their efforts at keeping the economy going.
The Minister of Agriculture, Mr Kwasi Ahwoi, told the gathering about numerous initiatives that the ministry had implemented in the agricultural sector.
These included 63 per cent increase in the allocation of tractors and implements, provision of combine harvesters to farmers, warehousing, support for farmer organisations, which, he indicated, had led to increased production of food crops, livestock and fish catch, especially in the Afram Plains.
Mr Ahwoi, who also dwelt on various aspects of agriculture, stated that the ministry would not relent in its efforts at assisting all those engaged in agriculture to boost production.
Earlier in his welcoming address, the Eastern Regional Minister, Mr Samuel Ofosu Ampofo, said a number of interventions had been made to boost agriculture in the region.
These, Mr Ofosu Ampofo stated, included the rehabilitation of about 1,126.28 km. of feeder roads at the cost of GH¢2.2 million and the construction of a number of bridges.
He announced that a road was being constructed from Mame Krobo in Kwahu North (Afram Plains) to link the Ashanti Region at Agogo, explaining that such a road network would make the Afram Plains, which could only be reached by crossing the Afram River by pontoon, accessible by vehicles from the Ashanti Region.