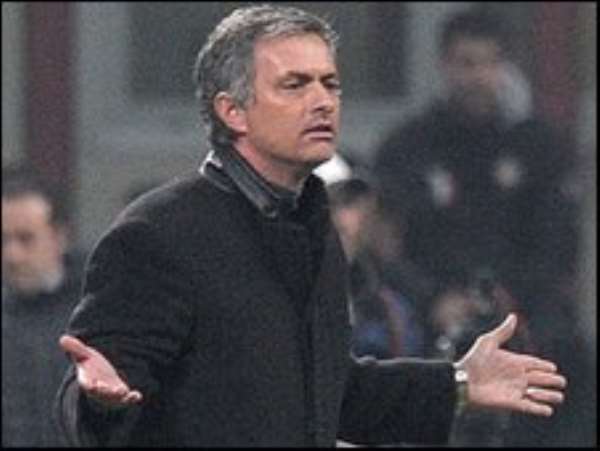 Real Madrid coach Jose Mourinho

Real Madrid coach Jose Mourinho has been fined by Uefa and banned for two Champions League matches, the second of which is suspended for three years.
Along with Real players Xabi Alonso and Sergio Ramos, Mourinho was found guilty of improper conduct relating to the pair's recent dismissals against Ajax.
Alonso and Ramos were also fined by European football's governing body.
Real had expressed "surprise" that Uefa investigated claims Alonso and Ramos deliberately incurred the red cards.
Mourinho - who had denied the allegations - was fined £33,500 for appearing to instruct Alonso and Ramos to attempt to receive strategic second yellow cards in last week's 4-0 win at Ajax.
They were both sent from the field for time-wasting, meaning they would be banned from group G winners Real's next match against Auxerre - which is effectively meaningless - but then be free to start the Champions League last 16 knockout round without suspension.
Alonso and Ramos were fined £16,700 for their part in the incident, while goalkeeper Iker Casillas and his reserve Jerzy Dudek were also hit financially after being captured on television apparently passing messages to them from the dugout.
Portuguese coach Mourinho will only be suspended for the second match if he is again found guilty of improper conduct in the next three years.
An appeal may be lodged against the full ruling within three days.
When Mourinho coached Chelsea, Uefa banned him from the touchline for two matches in 2005 after he accused Barcelona coach Frank Rijkaard of visiting Swedish referee Anders Frisk at half time.