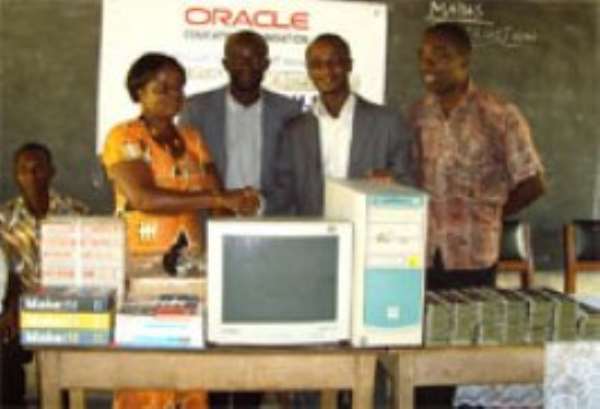 Technology Pre-sales Consultant of OEF, Mr Harry K. Tetteh (second right), presenting the items to the Headmistress of the School, Mrs Margaret Antwi left.
Adom Trust – a non-Governmental agency (NGO) based in Kumasi, has donated a computer, books and other learning materials worth GH¢800.00 to the Seidi D/A Junior High School (JHS) near Nkawie in the Atwima Nwabiagya District.
In all, the NGO donated a desktop computer, 40 mathematical sets, a carton of supplementary books, 100 exercise books, 100 pens and assorted sweets.
The donation was made n collaboration with the Oracle Education Foundation (OEF) – a non-profit part of Oracle Corporation based in Califonia, United Statesof America.
Nana Adom, Chief Executive Officer (CEO) of the Adom Trust said it was the dream of his agency to support education so as to promote a better society.
He said the donation formed part of his agency's objectives to provide education assistance to school children in remote and deprived areas.
A Technology Consultant, Mr Harry Konnor Tetteh, who represented the OEF, said Oracle shared the vision of supporting education globally for a better society.
According to him Oracle seeks to "inspire students to think, connect and share", using technology to help them dissolve boundaries.
That, he said, was to inspire school children to fdiscover and develop their potentials and create a better society.
He promised that the OEF would work hand-in-hand with Adom Trust to continue their support for the school.
The Headmistress of the school, Mrs Margaret Antwi, on behalf of the School's Management Committee, Parents Teacher Association (PTA) and the entire Seidi community,thanked Adom Trust and OEF for the donation.
She also thanked the English teacher of the school, Mr Effah Owusu William, whose efforts ultimately made the donation possible and
appealed to the NGOs to help provide a computer laboratory for the school.