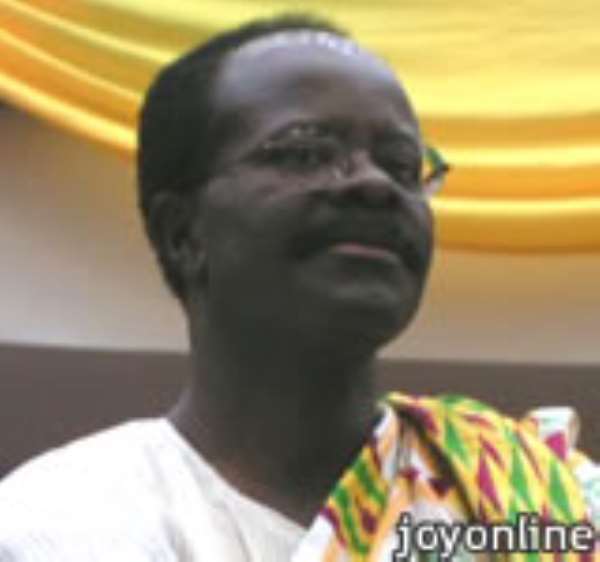 Dr. Paa Kwesi Nduom
Former flagbearer of the Conventions Peoples Party, Dr. Papa Kwesi Nduom has said he disagrees with the view that Ghana's oil revenue should be collateralized. He has however expressed support for the idea of a Heritage Fund.
Dr. Nduom further proposed that 20% of the oil revenue should be deposited in the Heritage Fund to provide a safety net for the future of the economy and the people of this country.
"I agree totally with idea; the concept of a heritage fund. I think it's brilliant. I would even go up to twenty per cent," he added while stressing the need for an independent body to manage the fund to ensure responsible governance.
Vice President John Dramani Mahama heightened the debate during a recent conference of the National Democratic Congress' students wing - Tertiary Education Institutions Network (TEIN) at Winneba where he called for the ammendment of the petroleum bill to allow government to collateralize anticipated oil revenue for loans.
But Dr. Nduom told Kojo Oppong Nkrumah on the Joy FM Super Morning Show Tuesday that it is important for the Mills-led government to hasten slowly in its quest to use the oil revenue for developmental projects.
Dr. Nduom said he appreciates the fact that the present administration is eager to use the oil revenue as collateral to acquire loans from abroad to propel the economy as well as to use the oil revenue as budget support for what he calls 'unspecified' expenses on the economy.
He explained however that "we must look at the oil revenue…as special extra money that we are going to get which we must be careful to use (it) by investing this oil revenue in certain specific areas that will help us industrialize the country, help us bring about a petrol chemical industry, help us strengthen key infrastructure in the country."
Dr. Nduom urged the government to learn from Ghana's economic management in the past which is dotted with numerous bad experiences with loans that has left the country with high liabilities adding that the country's management of other natural resources has been abysmal and should therefore be a lesson in managing the oil revenue.
For the former CPP flagbearer, it was a bad thing to collateralize Ghana's oil revenue as the failure of the intended objective may hurt the economy and the millions of Ghanaians when such mortgages go wrong.
He said when things go wrong with collateralization in a private enterprise, only a few people are affected, however, in the case of a country the entire economy can collapse.
Story by Derick Romeo Adogla/Myjoyonline.com/Ghana