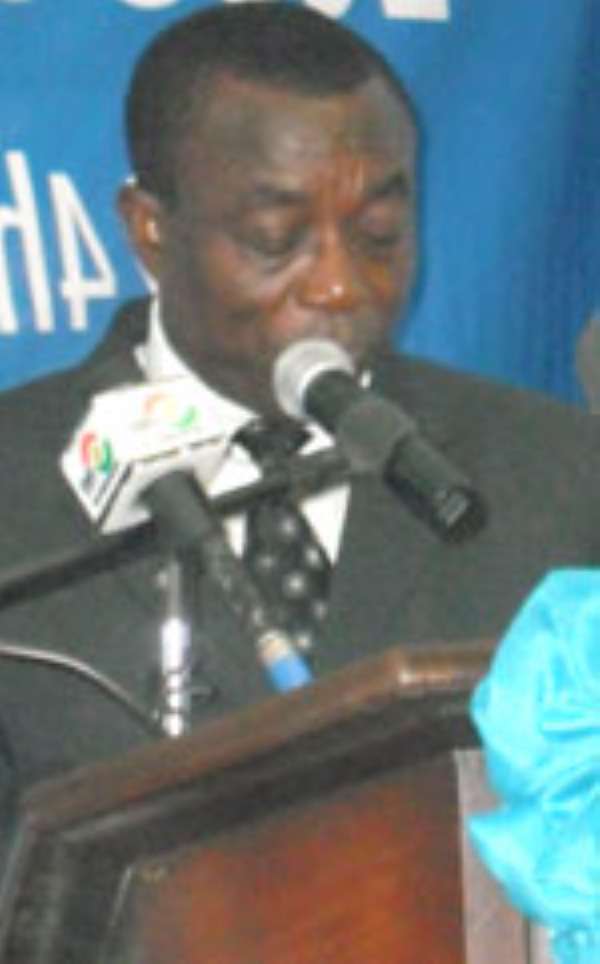 Head of the Banking Supervision Department of the Bank of Ghana, Nicholas Okoe Sai launching the Ecobank Mobile Banking product
Ecobank Ghana, a subsidiary of Ecobank Transnational Incorporation (ETI), on Wednesday, introduced another innovative product dubbed 'Ecobank Mobile Banking' onto the Ghanaian market.
The product works in partnership with Zap, a mobile commerce service that allows Zain, now Bharti Airtel, customers to use their mobile phones like a mobile wallet to pay for utility bills, goods and services.
'For the first time in Ghana, mobile phone customers can manage their bank accounts using their mobile phone. They can transfer funds from their Ecobank account to their phones, transfer funds between Ecobank accounts, and check their account balances at their own convenience, anywhere, and at any time. The Zap service continues to bring safety and convenience to the everyday lives of our customers with this new service,' said Philip Sowah, Managing Director of Zain Ghana, at the launch of the product in Accra, in a statement read on his behalf.
He added, 'We strongly believe an innovative product like Zap is a strong contributor to this occurrence.'
The new product is, however, expected to provide faster banking services, whilst expanding the customer base of both Ecobank and Zain, through the provision of easy access to funds, using the mobile phone.
The product allows customers of Ecobank, with Zain's Zap service account, to use their mobile phones to send money to Ecobank accounts, receive money from Ecobank accounts, transfer money between two Ecobank accounts, check bank balances, and check bank statements.
Furthermore, they could also use the product to pay bills and also pay for goods and services, receive and send money to friends and family, withdraw or receive funds from accredited agents across the country, and top up their own airtime or someone else's.
'This is real banking in your palm, and something that we are bringing to the doorsteps of our customers,' recounts Owureku Asare, Head, Transaction Banking, Ecobank.
Customers of Ecobank, according to Owureku Asare, could transact business with any of Zap's 600 agents countrywide.
Commenting on the new product, the Managing Director of Ecobank, who doubles as the Cluster Head of Ecobank West Africa Monetary Zone (WAMZ), Samuel Ashitey Adjei, said the introduction of the 'Ecobank mobile banking' product was 'an exciting new way of doing financial transactions at your finger tips.'
He believes that the new product would help attract the under-banked and unbanked population into banking in the country.
The Head of the Banking Supervision Department of the Bank of Ghana, Nicholas Okoe Sai, commenting on the product, said, 'This is an evolution of the Ghana Interbank Payment and Settlement System,' and however, entrusted stakeholders in the banking industry to ensure that certain fundamental systems are in place for the smooth operations of electronic banking in the country.
'The Payment System needs to be highly secured and occasionally reliable. The System should be transparent and easily accessible to users. Rules relating to accountability and responsibility of stakeholders should clearly be spelt out. Participants should be committed to responsible banking in practice, as far as disclosure of information is concerned,' he noted.
Mr. Sai, however, advised players in the banking industry to effectively manage the risks associated with such electronic products, so as to sustain public confidence in the system.