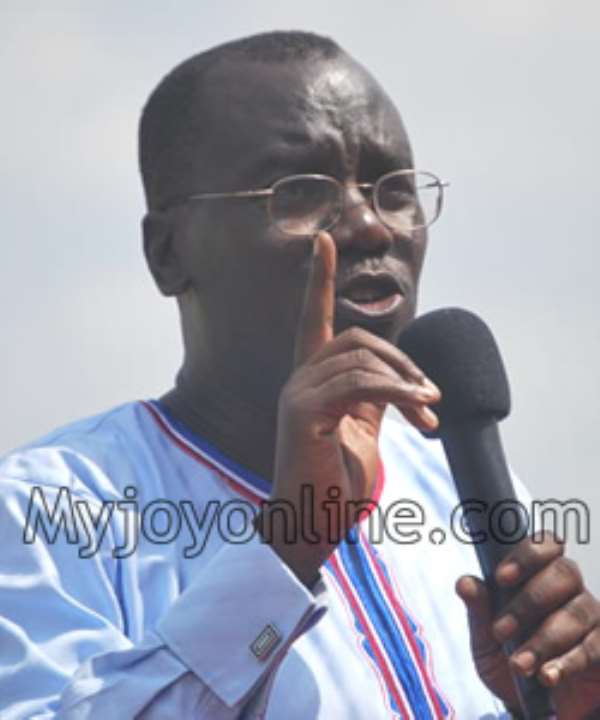 Sir John

The General Secretary of the New Patriotic Party, Mr Kwadwo Owusu Afriyie has asked former president Jerry Rawlings to shut up if he has nothing substantial to say about the legacy of his successor John Kufuor.
Mr Rawlings had accused the Kufuor administration of ignoring some sound economic initiatives started by his (Rawlings) NDC administration
Addressing a ceremony to open the refurbished Nsawam Food Cannery, Mr. Rawlings said, "Had the government continued from where we left off in 2000, quite frankly, I don't think Ghana will be in the condition she is today. We had laid a good economic foundation but we suffered a decline."
But the NPP chief scribe, speaking to Joy News after issuing a strongly worded statement in reaction to the comments by former President Rawlings, accused Mr Rawlings of falsely believing that Ghana can never make any progress without him.
Mr Owusu Afriyie, also known as Sir John, said presentations made by the current NDC government to the International Monetary Fund (IMF) vastly contradict the picture painted by the former president about Mr Kufuor's economic achievements.
He said it was shameful that Mr. Rawlings launched the unjustified blistering attack on his successor while commissioning a state property he (Rawlings) sold to his wife.
Sir John said if any of Mr. Rawlings' predecessors had done such a thing, the person or persons would have been executed.
The Spokesperson for the former president, Kofi Adams rubbished Sir John's submissions saying it was rather Sir John who had no sustainable criticisms against the former president.
He argued that Mr Rawlings' submissions were spot on.
"If the NPP had followed the process of expanding cottage industries, we will not be spending $500 million importing rice," he said.