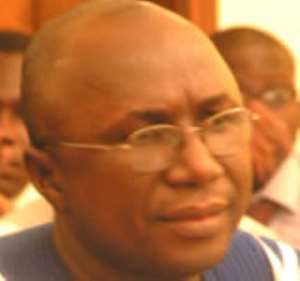 Mr Ambrose Dery, the Member of Parliament for Lawra/Nandom, has appealed to the government to consider the empowerment of women as its topmost priority in the development agenda of the country.

He said the empowerment of women should be seen as the empowerment of the community and that no community or family could be better off if women were not empowered.

"Women are those who personify society and as such they are the best managers of the family and the community," he said.

Mr Dery was interacting with women groups as part of his tour of the constituency to inspect beekeeping and piggery projects in the Ko Traditional Area on Saturday.

He supported the women's groups with 12,500 Ghana cedis as seed money from his share of the HIPC fund to establish the projects.

He pledged to continue to support the groups and urged them to learn modern best practices to sustain the projects.

He called on other women splinters groups, especially those in the Nandom area, to come together and form one association that could qualify them to benefit from his support.

Mr Dery appealed to women in the district to act as agents of peace by talking to their husbands and children to say no to any violent action.

"Of late the north has been notorious for conflicts and you women must work to change the negative thinking of the people to accept and cherish peace", he said.

Mr Dery appealed to women to stand up against cultural practices that dehumanize them and other traditional beliefs that impeded their development.

"Breadwinning or dowries of women should not be misconstrued that they are slaves to their husbands. It is time for us now to see our wives as development partners and nothing more than that".

Madam Florence Pul, the Coordinator of the Women Groups, said the projects would help address the challenges of poverty, household food security and unemployment for women in the area.

She said through the projects, the women were able to form internal savings and lending groups to save and borrow money for businesses under a self-generated simple insurance facility.

Mad Pul said members had become breadwinners of many families in the area and called on the government and benevolent organisations as well as individuals to assist the groups.

Mr. Dery has also supported members of the "Songtaa Nyog" Women Association in the Lawra Traditional Area with 12,500 Ghana cedis to establish a credit union.

Madam Alice Koyiri, Chairperson of the Songtaa Nyog Women's Association, said the group was supporting its members with credit to go into businesses to help reduce poverty.