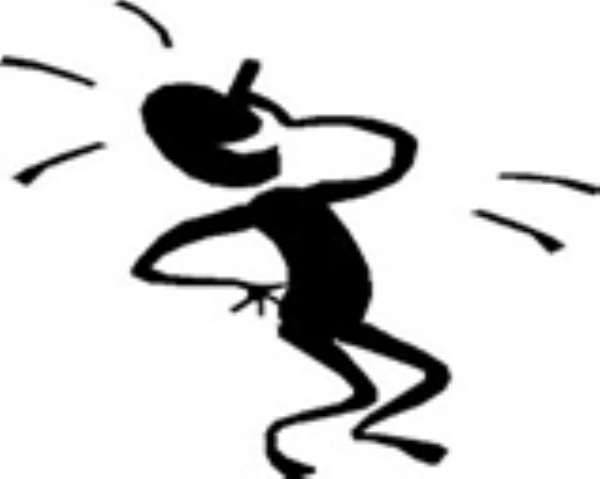 "I remain just one thing, and one thing only, and that is a clown. It places me on a far higher plane than any politician."
-Charlie Chaplin
It is not fun when you are the subject of a joke, but a good joke does not only create great fun, it also provides therapy that makes light work of the misery of our living. Growing up in cosmopolitan Accra taught me never to hand ammunition over to a Tease who is bent on having his day at my expense. An unsympathetic Tease will only increase your misery when he has the slightest inkling that you're deeply hurt by his taunts. I don't know what Alhaji Muntaka Mohammed, the former minister for Youth and Sports wanted to achieve by not only bringing up his Kyikyinga Palava but also singling out Ato Kwamena Dadzie for 'praise' on the issue. He has only succeeded in bringing the issue back to the front page. He has just provided every political satirist in this country material to run a dozen programs at his expense before the year ends.
I learnt very early in life that no amount of tears will stop a Tease. I was barely five years old when my parents moved me from 'Kookoase Korase' (Village) to Accra to broaden my horizon. I was thrust into a nursery in Kotobabi called Providence where the Lord's Prayer was said in Ga. As if my language deficiency was not enough my Mum put my hair to the scissor to deal with lice in my hair (Thankfully, the kids don't even know what these bugs look like today). In those days only one man scraped all the hair off his head. He was and is still called Super OD. With every kid including my only friend who happened to be my next door neighbor taunting and screaming Super OOOOOD, I wasn't going to survive the walk home in one piece, and luckily a good Samaritan rescued me from my misery by keeping me in her home until the road between the school in Kotobabi and our residence in Nkansa Gyan was free of all the kids from the school. I have since learnt how to administer a good dose of tease myself and I can tell you for sure that a cry baby is the best target for a good tease, and that the best defense is to join the fun even at your own expense if you want to stop the joke in its infancy. One thing you never do is to run to your Mama crying 'maaa maaa maaa, Ato is calling me Mukyinga'.
I particularly do not understand why some Ghanaian politicians are so sensitive to trivialities. When I tune in to the Weekend City Show on Joy FM on a Saturday morning, I know it is the time to laugh; I therefore place everything that happens there in that context. I couldn't believe it when Mr. ET Mensah rushed to Joy FM to protest the use of a sound bite from a speech he made that sounded like "it is only a fool that does not change his wife". He could just have called into the program with his wife by him screaming 'Rudy, not this wife, not me-love Mercy, I love you Mercy', if he had nothing better to do with his time. Of course, humor doesn't come easily to all Men, but one politician who has it is Dr Charles Wereko Brobbey. In those days when he only wore a mustache (No pirate beard), I paid him a visit in the hideout President Kufuor created for him at the VRA. He had adorned the office with huge frames of different cartoons that had appeared in the media seeking to caricature him in not very palatable terms. If the then president Bush (II) had spent time chasing Daily show host Jon Stewart for making fun of everything he did , even his mannerisms, the economy of America would have been two times worse than he actually left it.
Admittedly some jokes can be very harsh on the recipients. With some people, no subject is off limit for a good laugh. Tribe, race, accent, disability, dentures, mistakes, handicaps, just anything is fair game. At an Observatory Night Special in the notorious Vandal City (Sorry V-Mates), I recall one ethnic sensitive one that I won't recount here. But away from extreme jokes, we must all have a place in our hearts to accommodate some laughter at our expense no matter who we are. Although I do not have any examples of such, I believe our tradition must make room for 'mocking' the King (in the days when they were Kings) without losing your head. My mother tells me that in the island where I trace my origin, it was customary to meet at the community centre and mock people in songs. The system they called 'Halo' allowed rival groups to make fun of each other through songs. I hear the songs could be downright insulting but no punches were thrown. Our politicians must stop playing God and realize that no matter how intelligent one is, a little stupidity slips through at times, and when that happens we all celebrate it with good laughter because it is time to laugh. Taking our laugh from us when the political landscape is dotted with so many jokers is like taking away our tongues when our lips are wet with honey. What do we do when a politician insists he is contracting a loan for Ghana and the lender's address is traced to a hair dressing saloon? What do we do when a man insists God told him he will win an election in which he barely makes 0.1 percent? What about the DCE who says he will close down all the secondary schools in Cape Coast because few Cape Coasters have access to the schools? Oh, and the party Chairman who declared cats as endangered species because his AG is losing too many cases?
In the case of politicians, it is not only the obviously funny acts that lend themselves to laughter, but also the mundane answers they provide when they are caught in their webs of deceit. Naturally we must feel very angry about such insults to our intelligence but really, what can we do about these situations? These are very powerful people who can get away with a slap on wrist for things that lesser mortals will be very hot for doing. There are people whose claim to fame is the ability to stay poor whiles managing the affairs of this country yet they managed to educate their wards in expensive foreign universities because they have friends who took care of the bill. There are those who had a baby with their American mistress and the bill was picked by their friends. Presidential jets were bought in this country that a succeeding government just couldn't find who sold the plane to us no matter how hard they tried. The wife of a head of State sets up an NGO and buys a divested state company and wants us to believe there was no conflict of interest. On the eve of an election, plots of State land at prime locations in the city are sold to people very close to the incumbent administration at prices lower than what pertains on the market and we are told these are decent transaction. The ordinary Ghanaian hears and reads such things and knows that somewhere between those lines hides the poverty that consumes this country. He has only two options left – to cry or to laugh. The latter serves a better purpose. Laugh at the people who think they are fooling us because our laws are too short to reach them. Our laughter is a therapy that heals us from all the hardship they have put us through. We can only take them on in 'halo' where we will tell them what we really think about them.
Therefore when I hear Alhaji Muntaka - who sometime ago used his position to acquire a visa that was paid for by the State for a young woman to travel with him even though she wasn't qualified for that travel (an act that was described as 'error in judgment)-crying because we are laughing , I know it is a time to laugh again. Lol!
Source: Ogyakromian Sakalogues
http://www.ogyakromian.blogspot.com
mail to: [email protected]