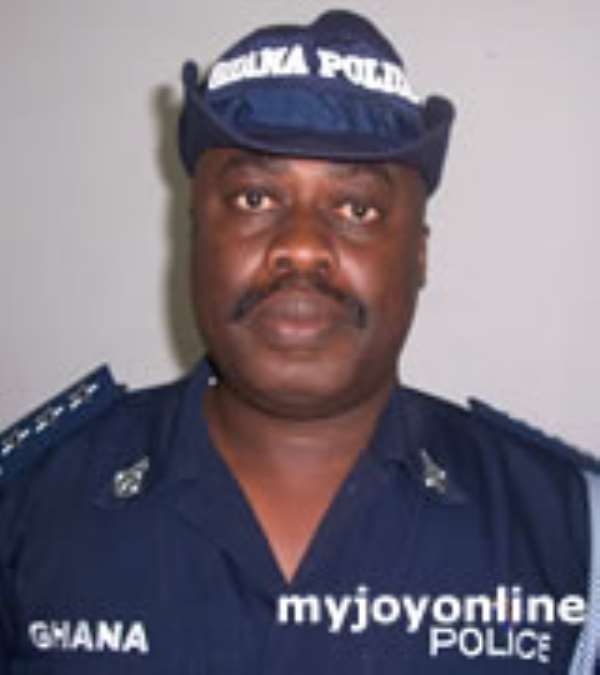 Superintendent Kwesi Ofori
Government is to make a formal complaint to the National Media Commission against Adom FM and Joy FM over the broadcast of an eye witness account of mass bus rape and armed robbery incident.
A woman, Amina Mohammed told Adom FM last week passengers aboard a Tamale bound vehicle from Accra were attacked by armed robbers who stole their belongings.
According to her, the robbers also forced male passengers to have sex with their female counterparts and in the process forced a man to sleep with his own daughter who he was sending to school.
She was exempted from the unsolicited sex spree because she was in a menstruation, she explained.
But the story has been contested with vehemence. Government and security forces maintain it was cooked-up to make the government and the police service unpopular.
The woman in the middle of the controversy has been arrested on Saturday and has since been in police custody.
A staff of Adom FM was also arrested but was released after interrogation.
The government is therefore asking the NMC to bring the two stations, Adom FM and Joy FM both of which reported the incident to order.
Director of Police Public Relations Superintendent Kwesi Ofori said their subsequent investigations show that Amina's accounts of what happened are untrue.
He said his outfit has spoken to a number of passengers who were in the bus that morning and none has corroborated the mass rape aspect as narrated by Amina.
Superintendent Ofori said the Criminal Investigative Department is yet to take a decision on what to do with Amina.
However, the Morning Show host of Adom FM, Adakabre Frimpong Manso insists the story is no hoax.
According to him, six other persons on the bus are prepared to narrate what happened, but appear intimidated by the treatment being meted out to Amina.
He said the attempt by the police to describe the incident as a hoax when investigations had not been concluded is unfortunate.
Frimpong Manso maintains, his station did not err in breaking the story, adding due diligence was made before the reportage.
Play the attached audio for excerpts of interviews
Story by Nathan Gadugah/Myjoyonline.com/Ghana