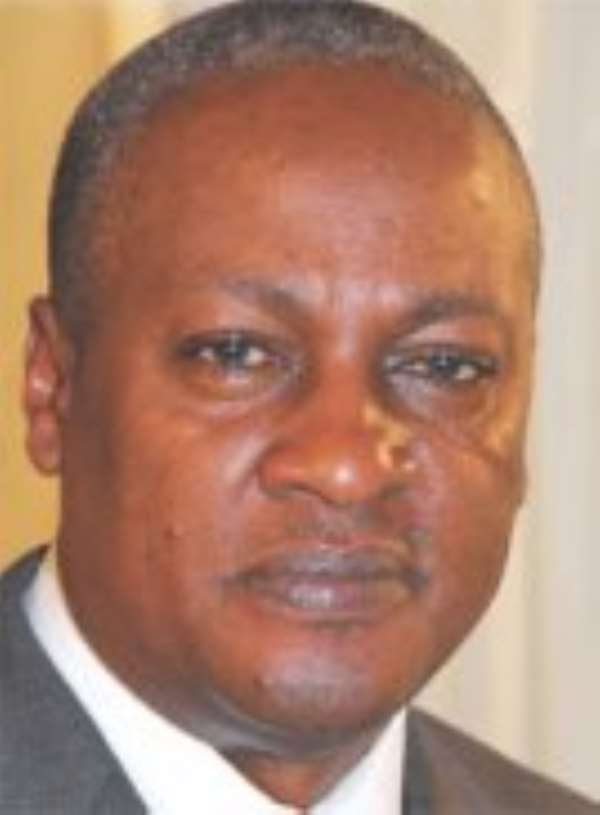 Vice-President, Mr John Dramani Mahama
The , has indicated that the government is introducing a programme to increase the enrolment of girls in schools across the country.
"It is the expectation of the government that by the year 2015, the enrolment of girls in schools will be equal to that of boys," he said.
Mr Mahama gave this indication in a speech read on his behalf at the 50th anniversary celebration of the Accra Girls' Senior High School on Saturday.
The school started on September 30, 1960, under the headship of Ms Blanch Gibson, to provide education for girls.
Mr Mahama reiterated the government's commitment to eliminate any form of discrimination in education against girls.
"All girls in Ghana deserve access to quality education and the government of Prof Mills will not rest on its laurels until this objective is attained," he said, stressing that "the government will tackle this issue from all fronts and in a very holistic manner".
Mr Mahama said a careful study had shown that "a society that does not put premium on girl-child education cannot achieve sustainable development and that the development of every society anchors on the value of education given to its women folk, which is inter-linked with access to modern health facilities and opportunities to achieve their fullest potential."
He noted that in recent times, the need to give equal opportunity to both boys and girls in education had become apparent.
Mr Mahama said at 50 years, the Accra Girls' SHS had had a long and rich history of imparting quality education to girls to prepare them for the future.
"Since its establishment in 1960, the school has carved a niche for itself, especially with regard to academic work and discipline," he stressed.
The Headmistress of the school, Mrs Veronica Akapame, said the school had chalked up remarkable achievements over the last 50 years through hard work and dedication on the part of various stakeholders.
She saluted the founder fathers, pioneering staff and students for laying a solid foundation, saying that, "the seed they sowed 50 years ago has now become a huge tree".
Mrs Akapame said from the 1960s to 1970s, academic performance progressed steadily while the school excelled in sports, producing national stars.
She said from the beginning of the 1980s to date, academic performance had improved remarkably, with about 90 per cent of the students entering tertiary institutions every year, and indicated that the school produced the national second best student in Business in 2002.