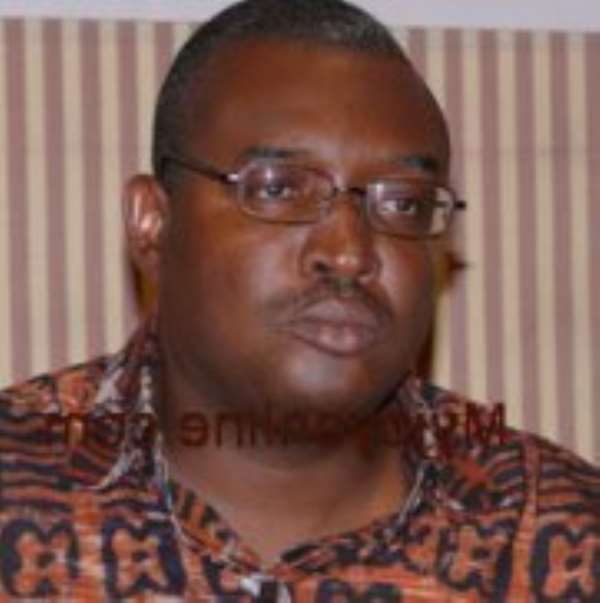 Mr Kobby Acheampong - Deputy Tourism Minister
The Deputy Tourism Minister, Mr Kobby Acheampong, is mocking at calls for his resignation by New Patriotic Party Members of Parliament in Ashanti Region.
Mr Acheampong had admitted calling the General Secretary of the New Patriotic Party, Mr Kwadwo Owusu Afriyie, a 'Kookooase Kuraseni', to wit, a villager from a cocoa growing area.
He explains that the comment was not targeted at the larger mass of people from the forest regions but at the General Secretary, who he accused of making derogatory remarks about President Mills.
Kobby Acheampong told an Accra based FM station that his comment was in reaction to an insult heaped on President John Mills by the NPP scribe during an interview on an Accra radio station.
According to him, when Sir John was asked if he respects the President, his response was "tweaa!," a sneer that smacks of total disrespect for the president.
He also accused Sir John of saying the President was not deserving of a recent rating to his credit by the Africa Watch Magazine because he had done too little.
Mr Acheampong warned that the days when people insulted the President and went scot-free were over, adding that he, as a minister, abhors insults to the President irrespective of which government was in power.
The deputy minister was reported to have said that Mr Afriyie, having lived in Kumasi for a long time, must refine his ways now that he was in Accra.
He explained that that comment was only a "private joke" he had been sharing with the NPP General Secretary which he repeated on-air but which should not be taken seriously.
He described calls for his resignation by the MPs as laughable, insisting President John Mills would not sack a hard-working lieutenant who is defending him (president) from critics like Mr Owusu Afriyie.
MP for Asokwa, Maxwell Kofi Jumah, however, insisted the comments by Mr Acheampong were in bad taste.