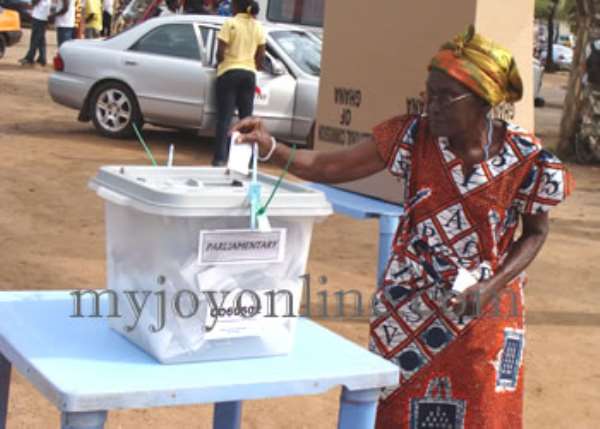 Mr. Sarfo Kantanka, Deputy Chairman of the Electoral Commission (EC), in-charge of Operations, on Wednesday, said a legislature on the creation of new electoral areas is before Parliament.

He announced this at a one-day Regional Media Dialogue on the 2010 District Level Elections at Takoradi.

It was organized by the EC, in collaboration with the Ministry of Local Government and Rural Development and facilitated by the KAB Governance Consult.

The dialogue was under the theme, "Improving Citizen Participation in the 2010 District Level Elections, Through Enhanced Knowledge".

Mr. Kantanka said when the legislature is approved by Parliament by the end of November this year, it would pave the way for the re-demarcation and merger of existing electoral areas.

He said this reform had become necessary, because new districts had been created and a second look should, therefore, be taken of the electoral areas.

Mr. Kantanka said the EC had been in consultation with Ministry of Local Government and Rural Development over the issue for about eight years.

He said presently, there were 5,000 electoral areas and when the reforms are implemented, this would increase to 6,000 electoral areas.

Mr. Kantanka said the reforms would make district level elections manageable, make its delivery efficient and reduce cost of the elections.

He said the District Assembly Elections (Amendment) Act, 2010 allows individual candidates to mount their own platforms instead of the EC mounting platforms for them.

Mr. Kantanka said the law allows an organization not associated with a political party to place at the disposal of the EC, support in cash or kind, for the purpose of mounting a platform for the common use of candidates.

He said the Local Government (Urban, Zonal and Town Councils and Unit Committees) (Establishment) Instrument 2010 has reduced membership of Unit Committees from 15 to five.

It also reduces the number of Unit Committees from about 15,000 to 6,000,
Mr Kantanka said.

Mr. Stephen Opoku-Mensah, Western Regional Director of the EC, commended the media in the region for its positive contribution, in sensitizing the public, and generally being supportive of efforts of the commission.

He said the commission cannot restrict the media in reporting on elections but it is important to stress that in the national interest, the exercise of objectivity, discretion and circumspection, would be required in an attempt to give a positive image about elections.

Mr. Opoku-Mensah said the electoral system is not sacrosanct and is subject to change and reform but could be done only if the electoral criticism or comments are fair and anchored in knowledge and facts.

"The Commission is a human institution and cannot claim infallibility", he said, adding, "We make genuine mistakes at times but when we make such genuine mistakes, we admit, apologize and rectify as much as possible".