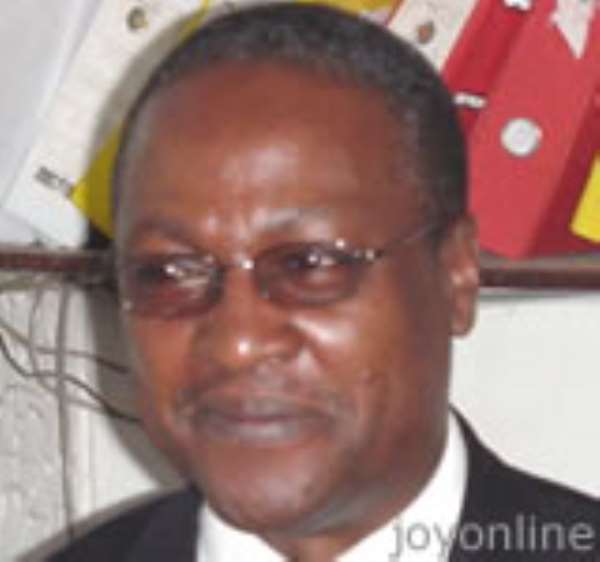 Vice President John Mahama

Vice President John Dramani Mahama on Tuesday suggested to all organizations serving under the United Nations to consider establishing a common fund that would help address Ghana's inadequacies in attaining the Millennium Development Goals (MDGs)

The establishment of the fund which, he said, should be managed and monitored by the UN, could also attract contributions from various development partners to support government to achieve those development goals by 2015.

Vice President Mahama made these suggestions when he addressed a day's retreat for the United Nations Team for Ghana in Accra.

The retreat, apart from bringing all the UN bodies to appraise their performance, would also enable them to re-strategize to help address some of the shortfalls.

Vice President Mahama said the establishment of the common fund would also help them to identify and target the development needs of the poorest regions of the country to catch up with others and to subsequently bridge development disparities.

He commended the UN bodies for their tremendous support to the National Development Planning Commission on their Medium Term Development Plan and urged them to take bold decisions that would enable them to meet all development targets.

"I am, therefore, encouraged that the UN family is convening this retreat for a serious discussion and, therefore, wish to commend you for the support you have given to our processes of national development."

The Vice President gave the assurance that government was working relentlessly to tackle "orphan MDGs" in the areas of water and sanitation, infant and maternal mortality and expressed the hope that their deliberations would come out with new strategies that would help in their achievement.

He said although Ghana was doing everything possible to achieve all the MDGs by 2015, sporadic floods and climate change were retarding that progress.

"Regional development imbalance can breed social and economic upheavals and it is for this reason that government has launched the Savannah Accelerated Development Authority (SADA) as our comprehensive strategy for addressing poverty and promoting accelerated growth in the Northern Savannah areas of Ghana in a sustainable manner."

He commended the World Food Programme (WFP), United Nations Development Programme (UNDP) and the United Nations Children's Fund (UNICEF) for collaborating with SADA in terms of programming.

The Team at the end of the retreat would present a report to government, indicating its findings and areas that it could intervene in the coming years.