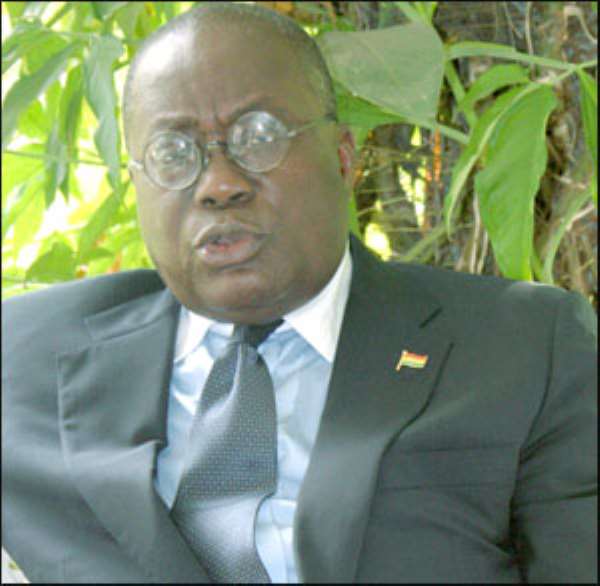 Nana Akufo-Addo
The flag-bearer of the New Patriotic Party (NPP), Nana Akufo-Addo, has said that the NPP would intensify its campaign in the Zongo communities in its quest to recapture power in the 2012 elections.
He bemoaned the party's performance in the Zongos in past elections and called for hard work and commitment in order to win more votes.
According to the flag-bearer, the eight-year rule of the NPP administration showed the party's concern for the development of the Zongo communities, as well as the liberties and freedoms the Zongo communities cherish.
He said that the NPP shares a common value with the Zongo communities, which is the development of the individual.
Speaking at a three-day strategic workshop over the weekend for Regional Coordinators of the Nasara branch of NPP, sponsored by the Netherlands Institute for Multi-Party Democracy under the auspices of the Institute of Economic Affairs (IEA) and the Ghana Political Parties Programme, he entreated the Nasara branch of the party to work hard to break the propaganda by opponents of the party that the NPP was anti-Zongo and anti-Muslim, explaining that NPP is the only political party that has been consistent in selecting Muslims as running mates since the advent of the Fourth Republic.
The National Chairman of NPP, Jake Obetsebi-Lamptey, said every Zongo person was born NPP because their forebears moved to Ghana many years ago because they wanted something better in their life, a philosophy the party believes in.
Mr. Obetsebi-Lamptey also entreated the Nasara Club to work to ensure that the Zongo communities retained some level of trust in the NPP. He said Zongo people believe in personal touch and so the coordinators should listen to the plight of their people and help the party address their concerns.
Mr. Boakye Agyarko, the National Campaign Coordinator for the 2012 election, said the Nasara branch of NPP was essential to NPP's political survival and success.
He explained that Ghana has become a pot in which everybody was important and so the NPP would not leave any section of the Ghanaian society out of the 2012 campaign.
Ghanaians are sick and tired of the sugar and milk politics and are now interested in development, he stated.
Participants were taken through the ideology and tradition of the NPP, the NPP tradition in Zongo communities and how to mobilise funds for the Nasara branches within the party.
The National Nasara Coordinator, Abubakari Sulemana, popularly called Lakulaku, was grateful for the opportunity to share experiences, reiterating that this would help broaden their horizon and better equip Nasara to cope with the challenges they encounter in the Zongo communities and rejuvenate their energies for campaign 2012.