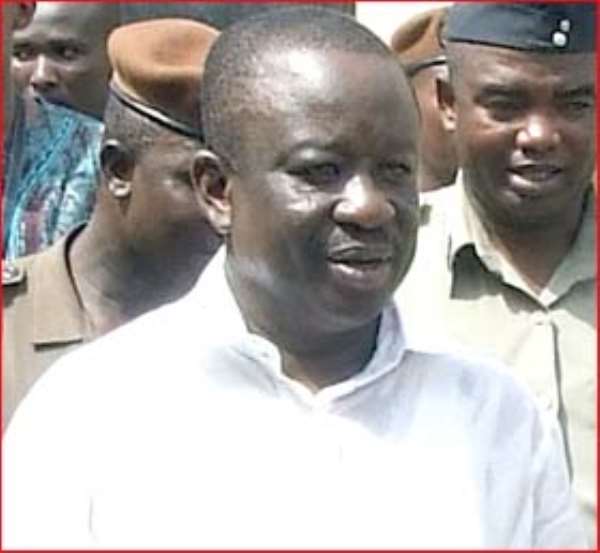 Albert Kan Dapaah
A group of suspected armed robbers, in the wee of hours Sunday, broke into the Paraku Estate home of former Minister of Defence, Albert Kan Dapaah at Kumasi.
The robbers, who are currently at large, sneaked into the house around 12:30am and made away with valuable items including a plasma television set, cable television decoder and a big sound system.
The hoodlums scaled the wall and damaged a window before getting assess to the living room on the ground floor of the one storey building which is situated at a plush neighbourhood in the city.
The watchman in the house did not notice anything.
Mr. Dapaah and his family were not in the house when the theft occurred, as the Afigya Sekyere East Member of Parliament (MP) had travelled outside the country.
The watchman of Mr. Dapaah, who was alone in the house during the attack, only detected the thievery around 6:00am, by which time the hoodlums had left long ago.
A close associate of Mr. Dapaah, Isaac Owusu Mensah, confirmed to DAILY GUIDE in an interview that the robbery had since been reported to the Ridge Police in Kumasi.
Acording to him, he was at Kyekyewere attending a funeral when the watchman called him on phone on Sunday morning, informing him of the robbery so he quickly rushed to Kumasi to verify things.
Luckily, Mr. Mensah noted, the robbers could not break into the bedroom of the former Defense Minister which is on the first floor and this prevented them from stealing more valuable items.
He said Mr. Dapaah, who returned to the country on Sunday morning, had since been informed about incident, noting that the MP was shocked about the development.
Mr. Mensah disclosed that this was the first time that the house had been raided by thieves so it came as a great shock to everyone including neighbours of the serene area.­
From I.F. Joe  Awuah Jnr., Kumasi