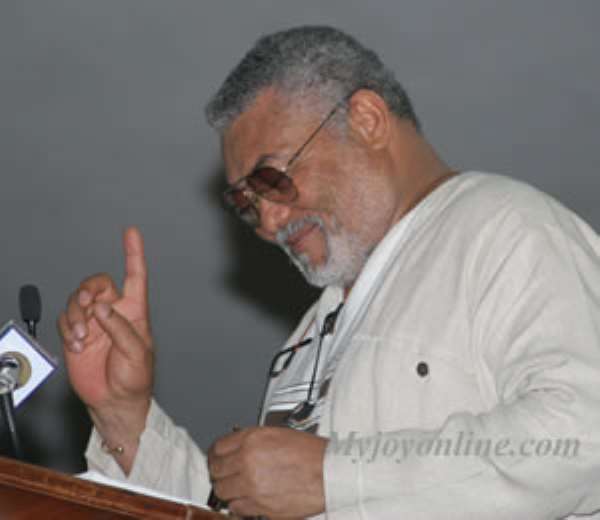 Former President Rawlings

The Managing Editor of the Crusading Guide Newspaper and an ardent critic of former President Rawlings, Abdul Malik Kweku Baako, says the utterances of the ex military ruler clearly shows he is seeking control and command over national power and resources.
Mr Rawlings, in his latest outburst, has stated that he has a problem with President Mills' style of governance. In a two page statement signed by the NDC founder, he expressed strong disapproval about the behavior of some executives of the National Democratic Congress, whom he claimed were spreading falsehood about him and his wife.
The former President chastised the Mills government for failing to investigate the "electoral fraud that saw the stuffing and replacement of ballot boxes in the last election" as well as the failure of administration to "correct or punish NPP's politicization, tribalism and victimization of persons especially in the security services. He also alleged that President Mills has refused to pursue the moral mandate of the people to reinstate truth, transparency and justice which according to him, is leading to the institutionalization of crime and corruption.
Speaking to the issue on Metro TV's Good Morning Ghana show Thursday, an obviously infuriated Kwaku Baako insisted that Mr Rawlings had no moral right to accuse President Mills of presiding over corruption, crime and injustices.
"There is a battle for control and command over power and resources by Rawlings. It's not just about his party. There is no way his party would have somehow ignored him if not for his posture. The arrogance and the contempt for everybody that comes with his drive is a show of how he wants to control ever body. Otherwise he won't go public with some of these things. What is it that Rawlings is seeking? He asked.
"We have a democratic Government that has to use the law to prosecute people based on the constitution that he has signed. What is he? Saint Rawlings? I hate this holier than thou attitude of his. He ruled for nineteen years, eleven years of it being military days, what else does he want? Does he want this Government to be driven by bitterness and vindictiveness? Is this the man who is talking about killings and corruption? If I were him, I will thank God that history has favored me and mellow about how I do my politics," Malik Baako advised.
As far as he is concerned, Mr Rawlings has no moral right to accuse President any government of presiding over corruption, crime and injustices, citing a number of instances in the past where the latter and his wife were involved in many corrupt cases both home and abroad – cases that involved huge state funds in the divestiture of state Enterprises such as the Nsawam Food Cannery.
Responding to Mr Rawlings' outburst, Deputy Chief of Staff, Alex Segbefia, said although there was nothing new about the issues raised, it was imperative that the party's national executive Committee looks into them.
He expressed regret that the Party Founder and his wife often chose to go public with their concerns although they could be addressed through internal party structures.
"What Rawlings has said is nothing new. He has always criticized past and present Governments. Even during campaigning against Kufuor, he told us that if we fail to do the right things he will criticize us. I think it's an internal party matter but when we treat it this way, it's good for our political opponents but does not help us at all. People should not overreact to this latest outburst because he has not attacked President Mills as a person" he pleaded.