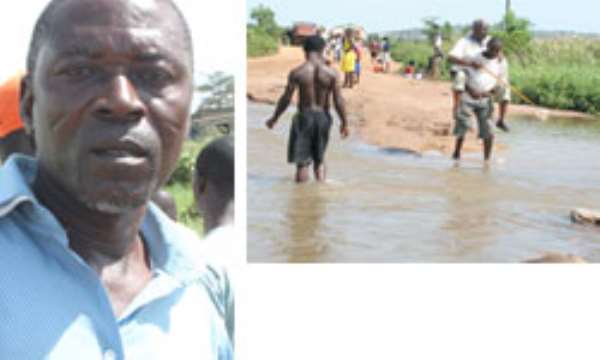 Mr. Solomon Botwe, Assembly Member for the Manhia Electoral Area (left), An old man being carried across the flooded road (right)
Residents of Manya, a community neighbouring Ablekuma, a suburb of Accra, have appealed to authorities to come to their aid, since the only road that links the community to other parts of the metropolis is in a deplorable state.
They said the road is flooded whenever it rains, as a result of the inability of the culvert crossing the road to accommodate quantity of water.
One of the residents named Naomi Lawson said the case had been reported to the assembly responsible for area on several occasions, but nothing had been about the situation.
She added that their journeys were always made distressing by the flooding of the road, since the vehicles cannot cross, stressing, 'We have to pause and carry our loads through the water, before we board a new bus, which is costing us a lot of money.'
Naomi indicated that the road also links some towns in the Eastern Region, which can help ease the heavy traffic jam on the Achimota-Nsawam road.
She however, said commercial drivers were being taxed for operating in the area, but no attention was being paid to the roads.
The lorry station master, Seth Kotey, told the file that formerly the drivers carefully manage to cross that portion of the road, but recent rains had made it impossible, saying, 'As you can see, there is nothing we can do about the situation.'
When the file contacted the Assembly Member for the area, Mr. Solomon Botwe, he said, the assembly had reported the situation to the Department of Feeder Roads, and that something temporary was done to reduce the pressure of the water flow, but could not understand why the situation had rather worsened.
He however, gave the assurance that the assembly would continue to champion the cause to have the road constructed in the earliest possible time.