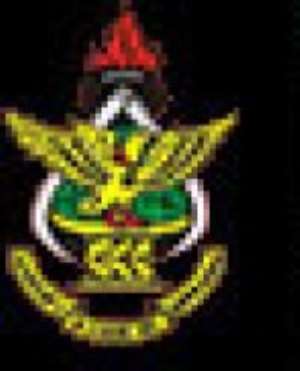 UST Emblem
Out of the 10,728 students who were offered admission by the Kwame Nkrumah University of Science and Technology (KNUST), to undertake various programmes of study this academic year, 3,714 of them have failed to report.
So far, 7,014 students, representing 65 per cent of those offered admission have accepted and registered. In all, 28,182 students from more than 200 senior high schools (SHSs) applied.
This comes at the time when authorities of public universities continue to lament over the inability to admit qualified students because of problems of space.
Authorities at KNUST have not given reasons for the situation but have said of those who registered, 241 are from less endowed senior high schools, while 390 are foreign students.
There are 5,004 males, representing 71 per cent, as against 2,010 females consistuting 29 per cent.
The Vice Chancellor of KNUST, Professor William Otoo Ellis, who made these known at the 2010 matriculation ceremony for fresh students at KNUST at the weekend, said the student population of the university was now around 28,000.
The College of Arts and Social Sciences admitted 35 per cent of the students, while the College of Science took on 22 per cent and the College of Engineering had 16 per cent. College of Agriculture and Natural Resources admitted 13 per cent, College of Health Science 10 per cent and Architecture and Planning had eight per cent.
Prof. Ellis stated that the status quo remained with the highest number of admissions coming from five elite schools namely Opoku Ware, Prempeh, Presbyterian Boys, Wesley Girls and Yaa Asantewaa Senior High Schools.
However, students from less endowed schools such as Hwidiem SHS, Kade Day Secondary/Technical, and Kraboa Coaltar Presbyterian/TechnicalSchools among others were also admitted.
He indicated that the cut off points for programmes such as human biology, pharmacy, telecommunications engineering,
petrochemical engineering, dental surgery and Optometry was aggregate nine, showing how competitive the admissions were.
This, he said, accounted for the large number of students who could not be offered admission into any of the 67 undergraduate programmes even though they bought admission forms.
He cautioned the students against acts that would negatively affect their ambition to obtain their degrees.
Prof. Ellis said it was always a pride to study at the KNUST, which was Ghana's foremost tertiary institution of Science and Technology and one of the best in Africa.