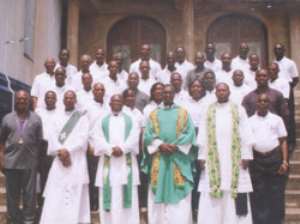 A New Anglican Men's Fellowship has been inaugurated during a church service at the St. Andrew Anglican Cathedral Church at Sekondi, with 29 persons as members, comprising 26 men and three women.
By resolution, only three females could be admitted into the fellowship.
Since 2006, the Cathedral Church has existed without a Men's Fellowship, as a result of a crisis that bedeviled the church, leading to a section of the members breaking away to establish the SS Peter and Paul Church.
Presiding over the inauguration, the Presenter of the Cathedral, Rev. Canon Kobina Amprofi Tawiah Eshun, charged the members to respect the constitution and bye-laws of the fellowship. He told them that they should also be prepared to make sacrifices by way of financial contributions, and spend more of their time on the fellowship.
In response, the interim Chairman of the Fellowship, Isaac Quainoo, gave the assurance that the members would live up to expectations.
The Diocesan President of the Men's Fellowship, Mr. Mac Acquaye, assisted by the clergy and other diocesan executives, decorated the members with badges of the fellowship.