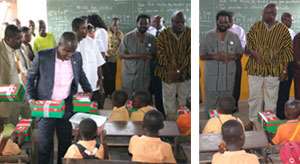 At long last, the government, together with the Accra Metropolitan Assembly (AMA) has completely ended the shift system in all public schools in the metropolis, and this has ushered all pupils into a maximum period of eight hours of school.
There were mixed reactions earlier, when the AMA announced that the shift system in public schools in the metropolis would be abolished, as part of its Millennium City Initiative, which is aimed at modernising Accra, under the 'New Accra for a Better Ghana' agenda.
The Mayor of Accra and Chief Executive of the Metropolitan Assembly, Mr. Alfred Oko Vanderpujie, led some officials from the assembly, the Ministry of Information, the Deputy Information Minister, Mr. James Agyenim-Boateng, and some members of parliament to visit some selected schools, as part of the celebration of my 'My first day at school,' which is to welcome new pupils into the various public schools.
To ensure the change is sustained, the AMA has provided 371 new school facilities, 95 private arrangements, and 276 new structures, which would serve temporarily to accommodate the over 71,000 pupils, who, until this academic year, held classes under the shift system.
The schools the team visited included the Old Bannerman Primary School, Mamprobi 'M' 1 Cluster of Schools, Accra Royal School, Accra Sempe Primary School, Independence Avenue School, St. Anthony's School Laterbiokoshie, and Datus Complex School
With the Mamprobi 'M' 1 Cluster of Schools, the construction of the 18-unit classroom block had already begun.
The construction of the school block, which is under the 'Millennium Schools' project, when completed, would have modern computer and science laboratories, library and sanitation facilities.
Advertisement
With the Old Barnnerman Primary School, the structure was still under construction, when the team visited, but the workers said that hopefully, tomorrow it would be completed, when some pupils from the Korle Gonno Primary School would move in, to begin classes.
The management of the Datus School Complex St. Anthony's School, located at Laterbiokoshie have rented some classrooms within their campuses to the AMA, to help provide new classrooms for the pupils, while the assembly has furnished the newly provided classrooms with 5,000 new student desks.
Mr. Vanderpujie, who presented the new pupils with some learning kits, was delighted, and urged them to learn hard, since to be a leader was not an easy task. Items in the learning kit included toys, pencils, face towels, socks, liquid soaps, note pads and tooth brushes.
He therefore, expressed gratitude to private collaborators who offered their properties for rent or free to house the pupils and students.
Also the Deputy Information of Information, James Agyenim-Boateng, commended the assembly for its effort towards ending the shift system, and the government's commitment to providing education for all.
He said the role of education in the development of the country cannot be relegated to the background, adding, 'Which is why the government will continue to support initiatives aimed at improving the educational sector.'