Ashanti NDC disowns YFL leader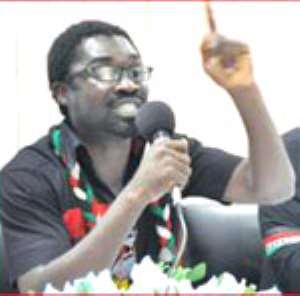 THE CREDIBILITY of Sacut Amenga-Etego, leader of a supposed pro-Rawlings group, Youth For Leadership(YFL), as a true member of the ruling National Democratic Congress(NDC) has been brought to question by the Ashanti Regional Youth Wing of the party.
The Regional Youth Working Committee of the party has denied knowledge of the existence of the group supposedly championing the cause of the youth in the party, and is, therefore, calling on footsoldiers and true members of the party to treat the group with serious contempt.
The committee has also taken strong exception to a subsequent exposition by Alhaji Bature, a leading member of the party that President Mills would resign if criticisms within the party continued.
In a reaction to a recent public outburst by the YFL leader that President Mills' government was performing poorly, because he lacks wise counsel, and is surrounded by people who had failed to offer prudent advice and guidance to the President, the youth committee described the claims as misplaced, indicating that 'it was a calculated attempt to soil the image of the Presidency.'
In a statement issued and signed by the acting Secretary of the committee, Onasis Kobby Rosely, the youth said the Ashanti Regional Youth Working Committee does not know Sacut to be a member of the party, neither does it recognise the YFL as a wing of the NDC.
'We are informed that Sacut claims to be a resident of Kumasi, and a member of the NDC, we don't know him to be a member of the NDC in Ashanti, and for that matter the Ashanti Regional Youth Wing does not have anything to do with such a 'Black sheep'.'
The committee noted with concern that Sacut and his likes had, for sometime now, created an erroneous impression that the youth of Ashanti Region were rebelling against the Prof. Mills-led government, stressing, 'Such palpable falsehood can only be conceived by his thinking group.'
The NDC Youth Wing indicated that while it was not against free speech and the expression of individual opinions, criticisms, both within and outside the party, must be based on facts, and not conjecture, adding, 'It must be one that would help move the country forward, but not to subject government officials, especially, the President, to public ridicule.'
'The recent article and subsequent pronouncement by Sacut, and reaction from Alhaji Bature, are very much unfortunate, and needless. Alhaji Bature's attempt to debunk Sacut's misplaced statement ended up fuelling the seemingly uneasiness within the party,' the statement noted.
It therefore, expressed its absolute confidence and trust in the administration of President Mills, and warned detractors of the party to be wary of their utterances.