Two Million Barrels Oil For Ghana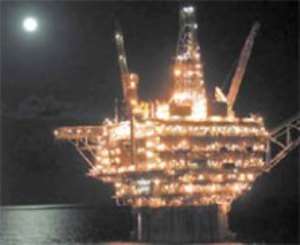 Oil Rig
Ghana and Equatorial Guinea have concluded a sales and purchase agreement under which two million barrels of Zafiro blend crude oil will be lifted annually from Equatorial Guinea to Ghana.
The Crude Oil Sales/Purchase Contract was signed between the Ghana National Petroleum Corporation (GNPC) and Guinea Equatorial de Petroleos on behalf of their respective countries.
A statement released yesterday by the head of the Economic Evaluation & Monitoring Unit of GNPC, Mr Kwame Ntow Amoah, said the deal concluded what was begun in May, this year when President Mills paid a three-day visit to Equatorial Guinea.
It said the GNPC had effected the first lifting of about one million and fifty thousand barrels under this Contract since July, this year.
President Mills secured the deal at the May talks with the President of Equatorial Guinea, Mr Theodore Nguema Mbasogo.
It is to sell the oil to Ghana under a 90-day credit agreement, similar to earlier ones Ghana struck with Libya and Nigeria.
Equatorial Guinea is one of sub-Saharan Africa's biggest oil producers with about 250,000 barrels per day (bpd) of output.
Ghana is expected to join the ranks of commercial oil producers by the end of this year when pumping starts from the giant offshore Jubilee Field.
Initial production is pegged at 120,000 barrels per day, which could catch up with the Equatorial Guinea production level in five years.