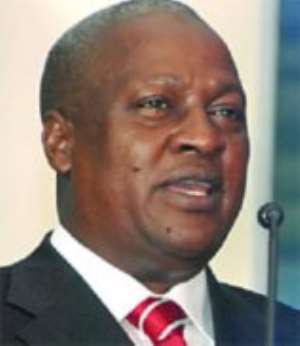 Ghana is one of the few African countries likely to reduce poverty by half ahead of the Millennium Development target of 2015.
This is on the wing of an agricultural regime which is growing as rapidly as that of a middle-income rather than a low-income country.
The country's agricultural success story was the highlight of the first-ever Africa Green Revolution Forum (AGRF) opened in Accra yesterday by the .
Organised by the Alliance for Green Revolution (AGRA) and chaired by former United Nations Secretary-General, Mr Kofi Annan, the forum is being attended by 800 delegates, including former Nigerian President, Olusegun Obasanjo, and the Prime Minister of Tanzania, Mizengo Pinda.
Mr Mahama said the high growth rate in agriculture had caused a radical decline in poverty, from as high as 52 per cent rate during the early 1990s to about half of that level at present.
Providing statistics for 2008, he said the agricultural growth rate was 5.7 per cent and overall GDP was 6.3 per cent, leading to a 3.6 per cent per capita GDP growth rate.
In 2009, he said, agriculture recorded 6.2 per cent growth and added that in 2010, the government expected to register a growth above seven per cent.
He said it was in that context that the government had re-dedicated itself to continue to work in partnership with the Alliance for Green Revolution Africa (AGRA), the private sector, foreign direct investors and development partners to substantially increase investments into agriculture in order to keep Ghana insulated from future global food price increases and to be a source of food exports to needy African countries.
Mr Mahama said the country would soon launch major initiatives in agriculture soon, which would include the distribution of improved seeds, fertilisers, technology training, and access to land, marketing, a buffer stock marketing agency and transport.
"We hope that in partnership with the private sector, AGRA, foreign direct investors and our development partners, Ghana can do much better by becoming a food basket for West Africa," he added.
He recalled the recent global food crisis that occurred in 2008, which doubled Africa's food import bill to more than 15 billion and added that Ghana was lucky because its farmers produced more than 11 million tonnes of cassava, five million tonnes of yams, 1.7 million tonnes of cocoyam and 3.3 million tonnes of plantain in that year.
"Thus Ghana was able to avoid severe hunger since it is itself sufficient in the roots and tubers," he added.
In addition, he added, cocoa farmers provided us with additional insurance by earning over $1.5 billion in cocoa earnings in 2009.
While thanking the farmers and fishers for their achievements so far, the message to them, he said, was that the fight against poverty in Africa was not over.
He said the establishment of a sustainable green revolution in Africa might be the answer to averting famine and conflict in future and proposed the achievement of that green agriculture through commercial agriculture.
Mr Kofi Annan said the challenges in the area of hunger and poverty of the continent were systemic and so were the solutions:
Fundamental changes in government priorities and policies; a strengthening of food value chains; development of Africa's private sector; the creation of vibrant new partnerships; and an alignment of international aid with Africa's priorities.
All of those, he said, must empower Africa's smallholder farmers, the majority of whom were women.
Transformative change, he noted, would enable them to leave behind subsistence farming, to run their farms as businesses, and to market their surpluses.
He said Africa, with a lower density of critical infrastructure that Asia had in the 1960s, needed massive investment in agriculture.
"Funds must come from a combination of sources: African governments, overseas development, assistance, foreign direct investment, philanthropic contributions from within and outside Africa, and Africa's private sector," he said.
He was glad that AGRA had helped transform agriculture in Mali, Kenya, Uganda, Tanzania, Ghana, Mozambique and the Sahel and other initiatives had made credit available to farmers in those countries.
He said in sub-Saharan Africa, 19 countries had put in place plans to accelerate their annual agricultural growth rate of six per cent a year, a goal agreed to under the Comprehensive Africa Agriculture Development Programme (CAADP).
Mr Annan observed with gladness the average growth rate of agriculture of five per cent in the last 10 years, the transformation of Malawi into a net exporter of maize for four years running, an increase in food production by 15 per cent in 2007 and 16 per cent in 2008 in Tanzania and the dedication of 14 per cent of the national budget of Mali to agriculture.
Mr Pinda said Africa must take the bull by the horn and end the structural reasons why it had not been able to feed itself, adding that the global food crisis had provided that impetus for action.
"There is a big potential for agricultural production in Africa. Africa's Guinea Savannah zone covers 600 million hectares of which 400 million can be used for agriculture and of which less than 10 per cent are cropped.
This indicates that Africa's Guinea Savannah is one of the largest under-used agricultural lands in the world," he added.
AGRA, founded in 2006, promotes investments and policy initiatives that would drive income growth for African farmers in an environmentally sustainable way.
Africa faces huge challenges in its efforts to reduce poverty and hunger, and to transform agriculture into an engine of economic development.
They include poor soils and seeds, lack of finance and markets and weak policy support, among other things and those are some of the issues that AGRA seeks to address.
Currently 300 million Africans, representing 30 per cent of the global population, go hungry although Africans represent only 14 per cent of the global population.