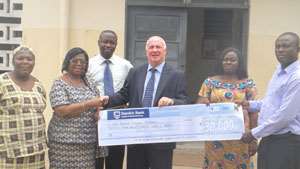 The La Palm Casino, has presented a cheque of GH¢30,000 to the New Horizon Special School for the completion of a two-storey building with seven classrooms in Accra.
So far, an amount of GH¢60,000 has been spent, and it is estimated that about GH¢110,000 would be spent to complete the project, intended to accommodate more pupils, in the few weeks.
'I am delighted to see this project at this level, and it is my hope that I find the rest of the money to complete it as soon as possible,' Mr. Colin Parker, General Manager of La Palm Casino, said at the project site in Accra on Monday.
It is the expectation of the La Palm Casino and Saigon that deprived and physically challenged pupils are educated just as regular pupils, and therefore, will do its bit to see it happen.
In addition to the building project, the Casino is sponsoring some students of the school, by way of school fees and other user facility fees.
'It is hoped that more people will be added to the sponsorship package, especially, kids who are challenged physically, and are within the community where the casino is operational,' Mr. Parker added.
An annual budget of GH¢30,000 is be provided by the Casino for the school to run administrative and core duties, and also to pay the salaries of the school's security personnel, which the Casino has provided.
Advertisement
KaiRo International Limited, mother company of the La Palm Casino, has other facilities in Malawi and Tanzania and operations throughout Africa.
KaiRo has committed itself to assisting, where possible, the upliftment of local communities.
It has invested in areas such as education, vocational skills, sports, agriculture and HIV/AIDS.
It therefore, did not come as a surprise, when the directors of the La Palm Casino and Saigon discovered the New Horizon Special School, and decided to support it.
The La Palm Casino run 84 state of the art video slot machines, including 20 Multi Gaminator, 20 Super V+ Gaminator and two novo multi roulette station eight, has a live game department, with games such as the traditional American roulette tables, black jack, poker tables (Raise'em and Hold'em) and baccarat.
Saigon is an addition to Kairo International facilities and operates two Karaoke rooms for your functions, serves dishes from the orient. Also available are 20 Super V+Gaminator Video Slots, eight station Novomatic Multi Roulette.