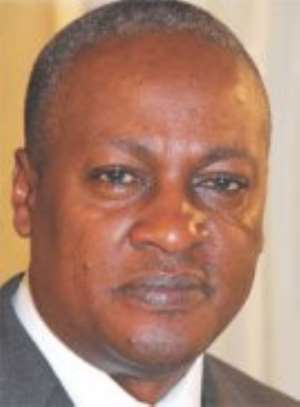 The government will recognise and work with chiefs and traditional rulers who are properly installed and recognised by the house of chiefs and other constitutional bodies, the , has said.
Speaking at the annual Homowo Festival of the chiefs and people of the Ga East, West and South districts, he said chiefs could only court the support and attention of the government when those 'chiefdoms' were established in line with the rules of the house of chiefs and the judiciary.
He said the government had no role in installing and destooling chiefs and urged the people to, therefore, stop drawing the government into chieftaincy conflicts.
He said although the government had no intention of interfering in the institution, it would take steps to ensure peace and security in areas affected by chieftaincy conflicts.
Mr Mahama expressed concern about the pockets of chieftaincy problems dotted around the country and its impact on peace and security and development.
He said since he became the Vice-President, he had received many invitations to attend durbars that climaxed Homowo in some parts of Accra but could not attend, for security implications, and lauded the people in the area for their resolve to sustain the peace and live in harmony.
He bemoaned how chieftaincy disputes in the region, for instance, affected the houses of chiefs, thereby preventing them from meeting and called on the National House of Chiefs to meet to resolve these lingering issues.
Mr Mahama underscored the importance of peace and harmony in the realisation of society's potential and reaffirmed the government's commitment and support towards achieving that goal.
On the festival, which signified hooting at hunger, the Vice-President said the region had, until recently, a lot of potential in agriculture but lost this due to intermittent chieftaincy disputes and called on chiefs to co-operate to regain that lost glory.
Mr Mahama expressed concern about sand winning and illegal tree felling activities in the area and appealed to the chiefs and people to partner the government to reclaim the devastated lands.
He urged the people to honour their tax obligations through the payment of their basic rates to enable the assembly to initiate the needed projects in the area.
The Vice-President said the government was on course to improve the lot of Ghanaians and called on all to support this course.
The Greater Accra Regional Minister, Nii Ashietey Armah, said the occasion was a season of peace and harmony, adding that the decision by the regional administration to prevent the sprinkling of 'Kpokpoi' in conflict areas this year, was to avert the possible breach of peace.
The Chief of Amasaman, Nii Amasa Oseiku II, called on the government to build the capacity of non-governmental organisations (NGOs) to support the development efforts of traditional leaders.
The Gbese Mantse, Nii Ayi Bonte II, pledged to help the Ga traditional Council to resolve the chieftaincy disputes in the region.